This time next week, I hope your students will be planning to head to Ziggy's (a local live-music venue in town) to hear two groups with strong Wake Forest connections.  On Thursday, April 12th at 8 pm, Salem Speaks will be at Ziggy's with Carolina Blend and Mipso Trio.  Tickets are $7.  See the Salem Speaks and Carolina Blend flyer.
Carolina Blend is a folk-rock group comprised of Wake Forest students.  The group is self-described as "taking notes from Ben Folds, Dave Matthews Band, and John Mayer. Their fearless leader Pud Ivey writes all the band's music, driven by the heartbreak of girls during his college years. A show guaranteed to blow you away with complex musical charm, they are Carolina Blend."
First of all, your students should go just for that description alone!   Second of all, your students should go to support their fellow Wake Foresters: current undergraduate students Alexander "Pud" Ivey ('12)  guitar/vocals, Matt King ('12) drums, as well as two alumni who are WFU Medical School students: James Smith ('09) bass, and Thomas Pendergrast ('10) cello.
Finally, your students should go because this is a Double Deac event: the headlining band is SalemSpeaks.   I work with a parent of a SalemSpeaks musician and have heard their music online.  It's quite good.  Their primary musical influence is another North Carolina band – The Avett Brothers.  And they have a neat story.
The band's members attended high school together in Winston-Salem, NC and formed SalemSpeaks.  The band was the winner of the "Rock the Block" band competition in Winston Salem, NC in 2010 and have released two CD's "Carolina" and "Adversary" CDs, all while developing quite a local following around the Triad.  They went their separate ways to college in the fall of 2011, but keeping the band together was a priority this year and they have managed to make it work.
The band has several Wake Forest connections. Two of the band members are current freshman at Wake Forest: Brad Stokes ('15) who plays the keyboard and accordion and Katherine Ririe ('15) on fiddle and mandolin. They write all of their own music, but always love tossing in a cover of "Wagon Wheel" to the pleasure of their audiences!  The three other band members are  Austin Hansen on drums and guitar, Zach Britt on guitar and Cooper Lindel on bass.
The Winston Salem Journal says this concerning their foot-tapping, leg-slapping music: "They play a co-ed version of the kind of rollicking Americana popularized by the Avett Brothers and put on a nonstop, multi-instrumental performance that'll make you simultaneously raise your eyebrows and wish you'd paid more attention during those guitar lessons. Trust me. They're like Mumford's Other Sons (and Daughter)."  The mixture of instruments and harmonies "wow" each audience as these five, college-aged friends bring contagious energy to each venue leaving every audience wanting more.
Music has been an integral part of a lot of people's college experiences – and there is something extra special about live music.  When you pair that up with the fact that it is April, it's nice to have a night out, everyone has Spring Fever, it's almost the weekend….you get it.  This will be a great evening for your kids, and if they aren't already fans of SalemSpeaks and Carolina Blend, suggest it to them.
You may even get bonus points for suggesting cool music to your kids!  How many parents do that?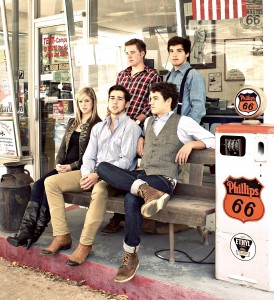 Here's a pic of SalemSpeaks at Campus Gas, just down Polo Road from campus.
PS – the University will be off tomorrow for the observance of Good Friday.  Hope you will get to see your students for the long weekend!