Was in a Family Weekend meeting today with the Office of Student Engagement and the Dean of Students (who are the offices who actually plan Family Weekend). My colleagues reminded me of a few important things you need to know before you arrive for Family Weekend:
There will be shuttles going to the football game on Saturday. Because of the fact that the Dixie Classic Fair (which is a big deal to Winston-Salem locals) is opening that same weekend, we know parking will be limited. Parents and families are strongly, strongly, strongly encouraged to ride our shuttles to the game and back.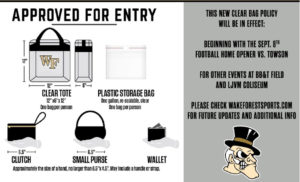 There is a new Clear Bag Policy that is in effect for football games. Please be sure you check out the policy and know what is/is not allowed. Would hate for families to ride the shuttle to the game with a purse or backpack and have to turn around and go back around on the shuttle to take it back to their car.
As a reminder, we will not know the kickoff time for the football game until about 10 days before Family Weekend due to television scheduling. They will announce the game time here (and on wakeforestsports.com etc.)
As I get more info on Family Weekend, I will share it here. They also have a really comprehensive web site you can/should access.
In other news, it is still hot as all get out here in WS. I would classify it as somewhere between "took a too hot shower" and "New Orleans in August." Speaking of, our Deacs have their first football game tomorrow night against the Green Wave of Tulane. Depending on where you live, you may be able to get coverage – or can follow along here.