It's FDOC (First Day of Classes) – so the semester is here and it's time to get to work. It was such a joy to meet so many new Deac families during Move-In and Orientation. We hope you enjoyed your time on campus.
There are several things online I want to draw your attention to:
Message to Campus from President Hatch – at the start of every academic year, Dr. Hatch pens a message to the campus community of students, faculty and staff. You can read his full message online, but here is a snippet:
"We must understand in order to find common ground. Though counterintuitive, listening is far more persuasive than arguing. Arguing rarely changes minds and often annoys and repels people. Careful listening, on the other hand, builds trust, particularly if one shows respect for others, takes seriously their best arguments and looks for elements of similarity. This kind of mutual understanding – this give and take – is the path to meaningful compromise, and that is essential in a society that is as divided as America today."
Weekly Message for First-Year Families – every Monday during the fall semester, we'll have a special message for new parents and families that highlights some portion of the new student experience. Today's message is Welcome to Wake Forest and Winston-Salem.
Orientation materials – if you were not able to be here for Orientation, we have posted some of the slide shows and handouts that were available.
Finally, this was something I posted on our Wake Parents and Families Facebook page on Saturday morning. It seemed to get a lot of likes, so I thought I would share it here as well.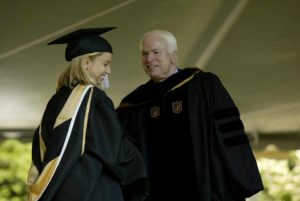 "In 2002, he was our Commencement speaker. In addition to giving a moving speech, he stayed for the full ceremony so he could shake the hand of all our undergrads. We offer our respect to him for his service and our thoughts and prayers to him and his family. You can read his speech here: https://commencement.news.wfu.edu/2000s/c2002/2002-speaker-john-mccain/".  There is also a news story where some of our alumni remember Senator McCain.
— by Betsy Chapman