It's the first weekend of the spring semester! Hope all your Deacs are settling into their classes and getting into the new routine.
So I mentioned yesterday the potential for snow and/or icy weather late Saturday night into Sunday. It's always touchy business predicting snow here – we could be told we'll get 5 inches and get 2″ (or 10″!), or none at all (see joke below).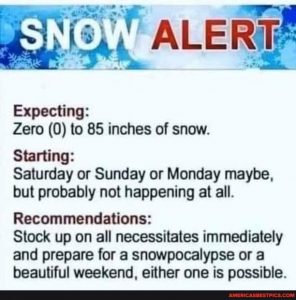 In all seriousness, at my weather briefing earlier today, it was noted that we are still a day and a half away from this, so changes to the forecast are inevitable. Encourage your student to keep an eye on the forecast as Saturday unfolds, and to look to their WFU email for weather-related announcements or alerts.
It may help to prompt your Deac to think through questions like "do I have food in my room/apartment/etc. that I can cook if I don't want to go to the dining halls in the snow? (or can't drive, or Grubhub isn't running?" or "is there anything I need – prescriptions? toiletries? etc. – that I can't live without until the roads are clear if it does snow?" etc. Particularly for students who live off campus, we want them to have what they need without driving in bad weather.
In Residence Life and Housing news, this message was sent to current resident students about the housing application for this fall (note to incoming P'26 families – this does not apply to incoming students! Their housing process takes place in May/June 2022).  And this message was sent to resident students who have a vacancy (i.e., empty bed) in their double-occupancy room.
Students received the WFU Should Know weekly e-newsletter yesterday. I hope they read the Greetings from Dr. Shea, our new Vice President for Campus Life, so they can begin to get to know her.
Monday is the MLK holiday, so there are no classes and administrative offices will be closed. We won't run a Daily Deac on Monday unless we have a lot of weather-related announcements we need to share.
Wishing you all a great long weekend!
— by Betsy Chapman, Ph.D. ('92, MA '94)