I am back from PTO and have several things to catch up on. In terms of some of the usual suspects:
For P'25s, our Weekly Message for First-Year Families was published on Monday. I write these throughout the summer and schedule them to be posted each week. This week's message is about health and wellbeing. Our '25s also got their issue of Letters So Dear on Monday.
In other news:
Wake Forest in the News is out this week, so you can see where Wake Forest faculty and staff are making news.
We will be testing our emergency alert systems on November 2-3.
Resident students received this message about housing for the 2022-23 academic year. For any Early Decision P'26 families in the Daily Deacdom, incoming students in the Class of 2026 (who will start school in August 2022) will have their housing selection process described after May 1, 2022 when the New Students website goes live.
This message was sent to all students living in University-sponsored housing at Deacon Station or Crowne apartments from the Office of Residence Life and Housing. Students living in University-sponsored housing have the option to retain access to their housing for the Winter Break period (December 12 to January 8) for an additional charge, as that time period is outside of their housing contract. For students who do not wish to retain access over the break, they will need to return their keys by 2 pm on December 12th and can move back in January 8th when University housing reopens.
Students have received an email asking them to take the
National College Student Bystander Intervention Survey
. (NCSBIS) The assessment seeks to understand current thoughts and experiences regarding bystander intervention on-campus. It encompasses a broad scope of topics, including hazing, intimate partner violence, and bias. Please encourage your Deacs to complete the survey
Here's a few events coming up in the next several days, courtesy of the ZSR Library, University Police, and Student Union:
ZSR Game Night
October 22nd – 5:15 PM
ZSR Library
Come join the Esports and Board Game clubs for a fun-filled night! We'll be hosting a Smash Bros. tournament, various board games, and a costume contest! Pizza and beverages will be provided. See you there! Students can click here to register for the Smash tournament.
Battle of the Bands
October 22nd – 6:00 PM- 8:00 PM
Brendle Recital Hall
Battle of the Bands is finally here! Come out to hear outstanding musical performances from Wake's very own student body. There will be a variety of genres featured, from R&B to Indie Pop. All audience members will be entered into a raffle and the first 50 people that arrive will receive free earbuds! This is the concert that you don't want to miss. Get ready to be rocked! 
Friday Films
Insidious
October 22d – 8:00 PM
Benson- Pugh Auditorium
Student Union's Halloween Friday Film Series feature of Insidious, a horror movie entailing how parents Josh and Renai Lambert take drastic measures when it seems their new home is haunted and their comatose son is possessed by an evil entity
Haunted Tunnels
October 25th – 6:00 PM
Cross Country Trails
Join Student Union and AAP for a night of fright in Reynolda gardens! 
Pumpkin Painting
October 26th – 6:00-8:00 PM
Davis Field
Ready to get into the fall spirit? Or, do you love sipping on hot chocolate and apple cider and making something cool? Whatever floats your boat, come out to the beautifully decorated Davis Field tent and paint a pumpkin with student union. We will provide all the supplies and snacks. All you have to do is come out.
Coffee and Doughnuts
October 27th – 9:00 AM
Tribble Courtyard
Stop by and learn about different Homecoming week events!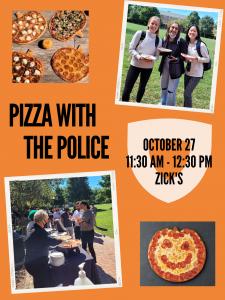 Pizza with the Police
October 27 – 11:30-12:30
Zicks
sponsored by University Police
Cultural Food Fair
October 28th – 6:00 PM to 7:30 PM
Tribble Courtyard
Come join Student Union and your favorite student organizations during Homecoming Week for food, music, and community. Chat with campus organizations, try new food, and be sure to bring your friends!
Paint and Sip
October 28th – 8:00 PM to 10:00 PM
Benson 409 & 410
Come by and paint your glowing WFU theme pictures while enjoying free food & mocktail!
Lots of things to do – and even more on the Corq app. Hope your Deacs will take lots of bites out of the Wake smorgasbord!
— by Betsy Chapman, Ph.D. ('92, MA '94)
Recent Posts
December 3, 2021

December 2, 2021

December 1, 2021