Main Content
It's the end of the week, but a lot of new info came out this week, so will do my best to cover them.
Our Call Center has reopened to take your questions. Right now we are working 10 am-3 pm today, and next week we are shooting for 10 am-3 pm Monday-Thursday; we will let you know if we extend to next Friday. As always, the number is 336.758.7500. Our goal is to have parents and families contact the Call Center with questions, freeing the phones of administrative offices up for students that have questions.
One question I had been consistently getting is "what do the modalities really mean?" There is a great graphic that I believe the Registrar's office had come up with to help explain the differences; click on the graphic or view it here. Short answer: Face to Face and Blended modalities both have in-person components.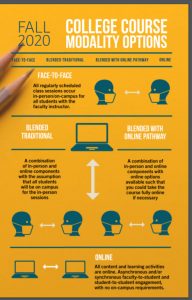 The special add/drop for sophomores-seniors runs July 15-21 and there is a lot of great detail in the message about adjusting schedules. I am an academic adviser and was looking in WIN yesterday and I saw a number of spaces in various courses that were Face to Face or one of the Blended Modalities. And there is likely to continue to be shuffling between now and the 21st, so Deacs can check in today (and check back periodically) if there is a class they are looking to change, as spaces might open as other people drop/add. I've been told that our students who had been planning to study abroad are getting the attention of faculty and department chairs and that they will be taken care of.
There were some questions yesterday about AP/IB scores. The Registrar's office works with those, and they have a website about AP/IB. They also link to info about Degree Works, which is where students will be able to see degree requirements and courses they have completed/or are taken; Degree Works is where AP or IB credits will ultimately be noted.
Also got questions about how to exceed 17 hours; that is a function of the Office of Academic Advising. It would be worth your Deac's time to review the functions of the Registrar's office (as seen on their website) and compare/contrast to what the functions of the Office of Academic Advising are (website). Though these offices work very closely, they have different responsibilities, and it is good to know which office you need. As a reminder, we also have the Who to Contact for… page on our site, and while that was a guide built for families (rather than students), it may help point folks in the right direction.
On Wednesday, students received an email from Residence Life and Housing about the fall housing process; read it here. There is also a detailed FAQ on the RL&H website about the fall. We encourage your Deacs to read through all that information thoroughly before contacting RL&H, as their questions may already be answered in these resources. I received a few questions about roommate groups. As you and your Deac consider housing, please know we have very few one-person units. If students could find a few other people to group with, that increases their housing options. Students can search for roommate group members in the Housing Portal. Students who are unable to select because they are an individual or because their group size does not match with any available units will be able to select from any remaining bed on Wednesday, July 29. 
Re: meal plans, some students have asked if they can change their meal plan, as what is showing online is not what they want. Students will be able to change their meal plan after housing selection. Meal plan minimums are tied to their housing location, so they cannot pick another meal plan until they select housing. The Base Meal plan was globally assigned to all students as part of the July 15 bill but they can change meal plan as they select housing. And a reminder: parents and families cannot ask to have room types changed or meal plans change, as those contracts are technically with the student, so they must be student-initiated.
Finally, I talked to some families yesterday who still have some understandable concerns about what the fall will look like. Please know that our fall plan is a starting point. We needed to come up with a baseline from which we can expand as circumstances become safer and we learn to adapt appropriately. Once students are here on campus, we expect common sense will prevail over policy. Faculty will reach out and create opportunities to engage. Students and staff will create opportunities to engage with each other, etc. But we have to start in a manner that gives us the greatest chance of keeping people healthy so we can complete the semester without disruption.
Please continue to stress to your students the importance of cloth face coverings, maintaining social distance, good hand/sneeze/cough hygiene; those are low-effort ways that we can bolster the safety of campus once school starts. All of us share the same goal of a successful fall semester, and each of us can make that happen if we all play our part.
Have a great weekend!
— by Betsy Chapman, Ph.D. ('92, MA '94)
Recent Posts
August 12, 2020

August 11, 2020

August 10, 2020