Main Content
In the hurry scurry of FDOC, I was not able to include President Hatch's message to the campus community. At the start of every semester, he typically sends a message to our campus with his thoughts and aspirations.
Yesterday's message was – in part – about hospitality:
"I have often read works by professor and theologian Henri Nouwen, and I am intrigued by his description of hospitality. 'Hospitality,' he wrote, 'means primarily the creation of free space where the stranger can enter and become a friend instead of an enemy. Hospitality is not to change people, but to offer them space where change can take place. It is not to bring others over to our side, but to offer freedom not disturbed by dividing lines.'
This is a compelling idea of what the Wake Forest community can be – a place where all are welcome and free to share themselves with others. We can make space for grappling with complex topics, and through discussion and debate, continue to shape our perspectives and grow in understanding. This year, I look forward to embracing this idea of hospitality with all of you."
You can read Dr. Hatch's full message here.
In general parenting news, a few of you had sent me a link from The Wall Street Journal, "Is Your Child Emotionally Ready for College?" It is a really interesting look at some of the competencies students need to be successful. Of course, if your students are here now, perhaps a bit late to talk about this. But if you have younger kids at home, worth a read. Note, the WSJ is a subscription publication, but you may get a free article or trial.
I also wanted to give a shout out to my student adviser, Corrie Knapp ('20). All the SAs were asked to send their advising group a list of their top 10 resources. Corrie put this together and (with her permission) I am sharing it here, since we have an increasing number of current students who are reading the Daily Deac. (Thanks, Corrie!)
I decided to do my own take on "top 10 resources". You may want to star this email because I think it will be SO helpful!!
1. How to get to degree works: go to win.wfu.edu | login | go to virtual campus in top right corner | under Your Student Records | degreeworks is third option down. This tool will be your guide to what classes you need, your GPA, and your hours! Best tool out there!!
2. Printing: There is printing in the library that uses your DeaconDollars (different from food dollars). You can load money online by googling add deacon dollars. It's 8 cents per page, so I have found it more economical to use Wake's printing instead of buying a printer. If you already have one, no worries! They are in the main lobby of ZSR, and you just swipe your ID.
3. Checking meal plan balance: https://dining.wfu.edu/meal-plans/check-your-balance/  Click the "here" button in the first sentence!
4. Zotero: This little magical app for your computer automatically creates citations for you! I highly recommend getting it and going to a class to teach you how to use it. Literally will save you hours by going to one meeting! Link to the schedule of classes: https://pdc.wfu.edu/events/88/
5. Coursicle: This is a website that lets you see what a potential schedule would look like before actually scheduling a class. It's very helpful during registration when you're not sure when you want to take a class. Go to coursicle.com | select Wake Forest | start making a schedule!
6. List Serves: Once the Student Involvement Fair happens (9/3), this will make more sense! Every club has an email list that they send all the important info to. Make sure you are on these lists so you don't miss anything important! Signing up for a list serve does not bind you to the club by any means, so sign up!!
7. Undergraduate Bulletin: https://bulletin.wfu.edu/courses-az/ . This is your guide to every class at Wake! Some classes may not be  offered every semester, but they are still in the bulletin. If you're interested in an area of study, click on the title to see the classes.
8. Finding your schedule by day and time: Go to win.wfu.edu | login | Go to virtual campus | Under class registration and schedule | Student schedule by day and time is the last option! This is really nice to take a picture of so you know where your classes are located if you get lost walking there!
9. Koru (Mindful Wake): This is a new thing at Wake which I love!! This is a month long class that teaches mindfulness and meditation techniques. You may not need this now, but keep this link for the future! There is no shame in needing some help getting yourself organized. https://events.wfu.edu/event/koru_mindfulness_training_6696#.XWAmoy3MyuU 
10. Counseling Center: **There is no shame in going** These links describe what a typical counseling appointment is like. It's super helpful if you're not sure if this is something you need. Please reach out if you have any more questions! https://parents.wfu.edu/2015/03/what-does-the-counseling-center-do-what-is-it-like-for-student-clients-part-i/  https://parents.wfu.edu/2015/03/what-does-the-counseling-center-do-what-is-it-like-for-student-clients-part-ii/
Other resources:
Learning Assistance Center
Writing Center
Math Center
Chem Center
Office of Academic Advising
Center for Global Programs and Studies
The Bridge
Speaking of the Learning Assistance Center, they have some graphics below re: how students can sign up for tutoring.
Hope that is helpful. Make it a great week, Daily Deacdom!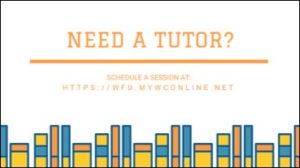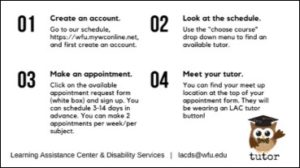 — by Betsy Chapman '92, MA '94
Recent Posts
August 7, 2020

August 6, 2020

August 5, 2020