Main Content
Yesterday's Daily Deac gave an inside look at the work of the University Counseling Center (UCC) and how it supports clients during an initial appointment.  Today we delve in to subsequent counseling appointments and answer frequently asked questions.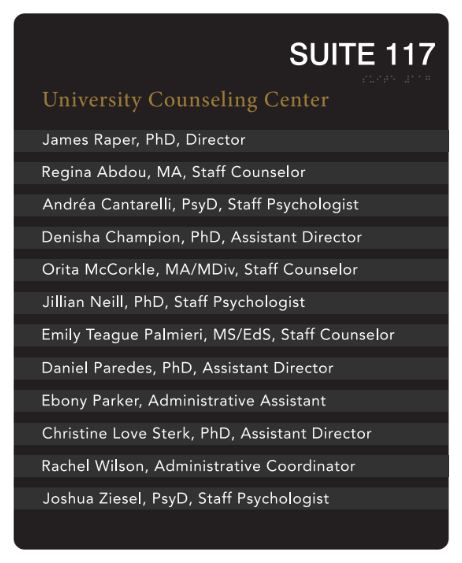 How does counseling proceed after the first appointment?
If both counselor and student agree that the UCC is a good fit for the student's needs, they will continue to meet, usually every 2 weeks, or as determined by the urgency of the presenting issues.  While each counseling relationship and experience is unique, counselor and client typically work through the "syllabus" of identified concerns and/or goals the student and counselor create together.
After the first intake appointment, it is much more a traditional counseling experience.  The student brings in topics or recent issues to discuss, while the counselor focuses on listening without judgment.  Counselors will sometimes also ask questions, provide opportunities for emotional ventilation and support, and/or teach students tools (like relaxation techniques and  challenging problematic thinking) that will help students cope with the stressors he/she is experiencing.  Typically students are encouraged to use the time in between sessions to practice the skills discussed in session, and complete any other homework relevant to their counseling.
What about prescribing medicine?
The Counseling Center does not prescribe medicine.  Counselors can only suggest to a student that they are hearing concerns or behaviors where medicine might be a helpful addition to counseling, and suggest that the student make an appointment with the Student Health Service to talk to the psychiatrist on staff or one of the physicians who frequently deal with medicine for anxiety, depression, panic attacks, etc.  If a student is taking medication for any psychiatric issues, the UCC and Student Health will collaborate to monitor symptom improvement and coordinate overall care.
How do other offices become involved in a student's situation?
Depending on the issues that prompted the student to seek counseling, the counselor may recommend the student seek out additional support from other offices on campus.  Examples include:
If a student is having roommate issues that are causing him/her a great deal of stress, the counselor may suggest that the student also seek out the RA or Graduate Hall Director for advice on how to improve the roommate situation, including the possibility of mediation
If a student is having trouble concentrating on schoolwork or struggling in the classroom, the counselor might suggest that the student seek the resources of the Learning Assistance Center for study help or tutoring
If a student is having a great deal of trouble sleeping (or eating), the counselor will suggest a visit to the Student Health Service to try and find some ways to help the student get back to a good pattern. It is hard to work out any other issues or problems if a person is sleep-deprived, so sleep issues are an early priority for intervention and assistance.
What if the student's issue is more serious?
In cases of students who have more complicated situations that require a specialist, or if they need or request therapy more frequently than the UCC can provide, the counselor will refer the student to a mental health professional in the Winston-Salem community who is able to meet his/her specific needs.
Final thoughts
I often tell my students that 'if you've tried many things to fix a situation, and nothing has worked so far, it might be time to call upon different resources.  If you feel like you are unhappy, suffering, floundering, etc. – get help.  Don't go it alone.  The UCC is here for support and help.  You have nothing to lose and everything to gain by trying.'
The UCC has a comprehensive web site with information and resources for students as well as parents and families.  Please use this resource whenever you need it.
https://counselingcenter.wfu.edu/
Phone
336.758.5273
Location
117 Reynolda Hall
Staff:
10 Mental Health Professionals, 3 graduate interns
Hours: 8:30am-5:00pm M-F
24-hour crisis availability by contacting the University Counseling Center at 336.758.5273
By Betsy Chapman and Dr. James Raper
Recent Posts
June 5, 2020

June 4, 2020

June 3, 2020