Main Content
We are on Day 2 of the semester. Many of our classes are either Monday-Wednesday-Friday classes (50 minutes each) or Tuesday-Thursday classes (75 minutes each), so for those with Tuesday-Thursday classes it will be the first glimpse at the syllabus and the new semester.
A quick word about the syllabus: it is essentially the contract for class, and will outline all assignments (due dates etc.), how the student's grade is calculated (for example, 25% of a student's final grade is based on their in-class tests, 25% is final exam, 25% group project, 15% quizzes, and 10% class participation), what the attendance policy is, when is office hours (times when the faculty member is just sitting in his/her office waiting for students to visit, ask for help, etc.) Students would be wise to read every word of the syllabus for each class and make sure they know exactly what is expected and when. Also a good idea to consult the syllabus before you email your faculty member with a question (just in case it is already covered in the syllabus). My faculty friends at other schools say one of their biggest pet peeves is being asked something that is clearly written in the syllabus.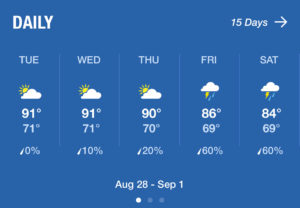 In terms of the feeling on campus…it is HOT. And humid. It is supposed to be in the high 80s/low 90s for the rest of the week. You can always check out the Quad Cam to get a look at the weather. I feel like when I have looked at it today, it has seemed especially bright.
An email went out to all students, faculty, and staff today from our Vice President for Campus Life, Penny Rue, and our Chief of Police, Regina Lawson, about safety and security. You can read it here. Parents and families play a very important role in reinforcing important messages to students, so to the degree you can encourage them to read emails like this, the better.  There is a lot of good info here – on-call shuttles is one they might especially like to know about.
As a reminder, I post all campuswide emails to our Family News page, but I also try to link to them in the Daily Deac. If you have questions about what kind of information gets communicated to parents and families, we have our new website that outlines those guidelines; be sure to read all the way through to the bottom.
Finally, an eagle-eyed Deac dad P'22 caught an error in the Weekly Message for First Year Families. I had the day of the week wrong for our Student Involvement Fair – it will be on Weds, Sept. 5th (not Tuesday). Gold (and black) star of the day to you, good sir!
by Betsy Chapman
Recent Posts
March 28, 2020

March 27, 2020

March 26, 2020