Main Content
We are closing the doors on the first week of the semester. For administrators and staff, it is a 3-day weekend, with observing Labor Day on Monday (sadly, your Deacs are in class). So we will be dark on Monday here at the Daily Deac.
Here are a couple of pics that our intrepid University Photographer, Ken Bennett, took today. I particularly love the one from Wait Chapel, with the doors opening (or are they closing?) onto the Quad.
Weather here continues to be hot and sunny, but as I walked up to Farrell Hall today, I saw the first signs of impending fall: there are a very small number of leaves that have already turned brown and fallen on the sidewalk.
Nice overtime win for our Deacs lastnight over Tulane. You can read the recap here. Let the good times roll!
And for our new parents and families among us, since it is the first Friday of the month, here is your prompt to consider giving your kids a call this afternoon. Here's why. Even though I will be out Monday, I have scheduled a new Weekly Message for First Year Families to run, so you can bookmark now and check back Monday.
Have a great long weekend, Deac families!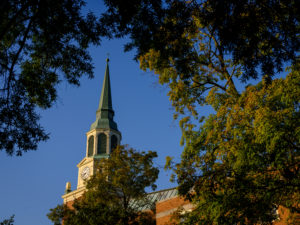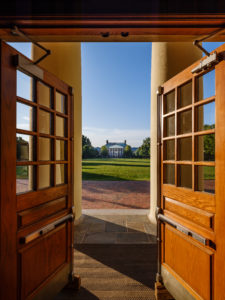 Recent Posts
March 28, 2020

March 27, 2020

March 26, 2020