Main Content
Today's Daily Deac is a laundry list of opportunities. Some for your Deac, some for you.
Student Involvement Fair is TODAY from 3:30-6 pm on the Manchester Quad (Mag Quad).  Your Deacs (of any class year) should go and sign up for some clubs and activities. Particularly for the first-year students, this is a key way to get involved on campus and find your niche.
Men's soccer is at home tonight: GO DEACS!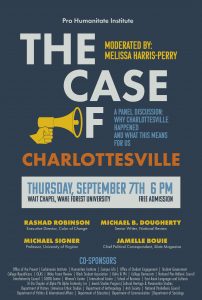 This Thursday is a panel discussion about the events in Charlottesville last month. This is free and open to the public and will be an opportunity for your Deacs to hear from many perspectives. Students can register for a small group discussion following the panel here: https://www.eventbrite.com/e/the-case-of-charlottesville-panel-discussion-discussion-groups-tickets-37463851388
Did you know that Wake Forest has a Wake Washington program?  It allows students to study in our nation's capital while taking courses taught by WF professors AND to have internships (for credit) in a variety of organizations: businesses, museums, governmental organizations, NGOs, and more.  In the fall of 2018, Dr. Bernadine Barnes of the Art department will be the faculty member in residence. If you have arty Deacs, or just have a Deac who wants a 'semester away' experience at home, this is a great program.  See more in the brochure: wake-washington-barnes
And these two are for you, Deac families:
Provost Rogan Kersh ('86) is doing a webinar on September 13th about Managing Millennials.  If you want to join it, you can register online here.  Also, see the full description: 9-13-17-Managing-Millennials
Our Weekly Message for First-Year families is up.  This week's topic: roommates and homesickness.
Make it a great week, Deac families!
Recent Posts
January 21, 2021

January 20, 2021

January 19, 2021