Today is Election Day, and I hope every single one of our Deacs who did not already vote (via early voting or absentee ballot) will get out today and vote for the candidate of his/her choice.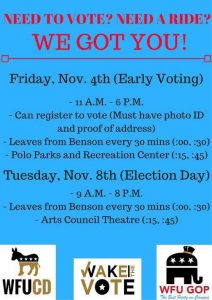 For those registered in NC, there will be shuttles running from 9 am till 8 pm from the Benson Center, leaving every half hour (at :00 and :30 on the clock).
Tonight there is a Wake the Vote election viewing party your Deacs can attend:
"A crazy Election Year deserves a crazy Election Night Party, right? Join us and watch the results come in, cheer for your candidates, and celebrate democracy! There will be Free Food Trucks, Free Beverages, Free Ice Cream from the Ben & Jerry's Truck, Giant JumboTron Screen, Live music performance by The CrossRhodes, Live Screenprinting of T-Shirts and Posters, and more!
Parking info: Parking will be provided offsite. The shuttle will stop at the Benson University Center on Wake Forest's Reynolda Campus and the Winston-Salem First parking lot (3730 University Parkway) behind the church in the lot on Long Drive. Shuttle service will begin running at 7 p.m. and operate on 20-minute intervals."
Presidential elections are always amazing things – tons of opportunities to learn about our country, our people, our political system, differing viewpoints, polling, the Electoral College – everything.  This is a great time to be a student in a very public learning lab.   To twist a line or two from "The Schuyler Sisters" song from the musical Hamilton:
"History is happening in our country and we just happen to be on the greatest campus in the world, in the greatest country in the world."