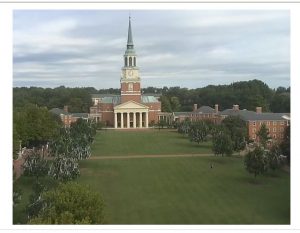 It was a great sports weekend for our Deacs. On Friday evening, the women's soccer team took on Davidson and beat them 1-0. On Saturday, men's football was at Duke and they delivered a hearty 24-14 victory. Also on Saturday, men's golf won the Rod Myers Invitational, then that evening our men's soccer team was at Spry Stadium. On a beautiful, warm night, the Deacs went into overtime and then Hayden Partain kicked a golden goal (with assist from Jon Bakero) for the OT win.  I grabbed this shot of the Quad Cam this morning – you can still see the rolling it had gotten (though much is cleaned up now).
I cannot recommend strongly enough that your Deacs go to our various athletic games.  Because my hopeful Class of '27 Deac is a soccer guy, we tend to do more soccer than anything else, and they are huge fun. It's terrific to sit out on a warm night (or later this fall, a cool afternoon) and watch our soccer team. In addition to being very, very good, they are also great ambassadors for WFU.  At the end of each game, if they win, the players all jump up on to the wall by the grassy hill and hug the folks right there.  After shaking hands with the opposing team, our guys go back to the start of the grassy hill where students and other fans are sitting and they high five anyone who wants to.  They go all along the hill line, then they continue to high five along the stadium seating. Little kids and grownups alike love this, and bless our players, they are unfailingly polite and frequently say things like "thanks for coming out, guys!"  They really know how to treat their fans. I am always so proud of them.
Because it is Monday, we have a new Message for First-Year Families online.  And finally, a reminder about news. When there are emails that go to students, faculty, and staff, those campuswide emails are posted on the Family News section; you may wish to bookmark that page so it is easily available. There is an update to the crime alert mailed to families on Friday (an arrest has been made) and then we got an email about Chelsea Clinton speaking on campus tomorrow (we are waiting for more details about that event). So know that whenever something goes to the entire campus community, we will post it at Family News.
Have a great week, Deac families!