For so many of us, November begins the long procession of holiday celebrations, starting with Thanksgiving.  I thought it might be good to reflect on some of the reasons I am thankful for Wake Forest – and maybe some of these reasons will ring true with you as well.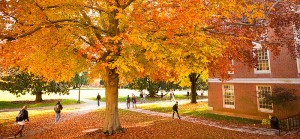 I am thankful for our beautiful campus.  It is a joy to walk across such a scenic campus, with stately buildings, gorgeous trees, colorful and ever-changing flower beds.  In a world where green space is getting hard to come by, there is still plenty here.
I am thankful for the wide-ranging web of support that can catch our students if they stumble or fall and help get them on the right track.  We have an immensely talented University Counseling Center, Learning Assistance Center, Math Center, Chem Center, Writing Center, Student Health Service, and Chaplain's office – not to mention the Office of Academic Advising and the support that students can find from their faculty.  There are so, so many ways for students to get help when they need it.
The trick is getting students to seek out those services, of course.  And that decision has to be made by the student.  Occasionally I will get a question from parents about 'how can I get my son/daughter to actually USE the resources?'  We cannot typically compel a student to make a command performance at any of our support outlets.  But this is where parents have a lot of sway and a lot of influence – you can set some expectations (or strongly worded suggestions) that you encourage your student to seek assistance when needed.  Think back to how you handled those situations in high school – how did you motivate your student to get help or support then?  Maybe that can inform your approach now.
Related to the above, I am thankful that we are putting an emphasis on Thrive and how to help our students achieve wellbeing.  I wish, quite frankly, that I had opportunities to learn more about those areas when I was on campus.  Easier to learn good habits – when and how to let go of stress, how to balance good nutrition and exercise, etc. – when you are 18 than 45.
I am grateful that our students have the freedom to try new things, learn new things, meet new people, and discover new passions.  This may be the only 4 years in their lives where they are totally free to explore their academic and extracurricular interests.  Wake's vast smorgasboard has so much to offer – I hope they all nibble plentifully at the options.
Parents and families? What are you thankful for about Wake and your students' experiences?  I'd love to hear and collect some.  You can email at parents@nullwfu.edu – and let me know if you are willing to have your comments shared in other ways (on here, or in other publications).  We'd do that anonymously, by the way – you could use your first intial and Parent Year (ex.,  S. P'17).
Have a good Friday and remember today's a great time to contact your Deacs 🙂
— by Betsy Chapman