Residence Life & Housing is beginning to accept applications for Resident Adviser (RA) positions for the 2012-13 academic year.  There will be a number of RA information sessions held over the next few weeks (schedule here, scroll down to find it); the deadline to submit an application is available on that page as well.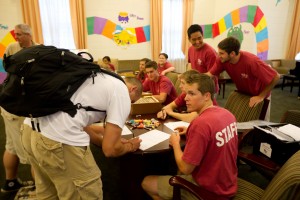 RA positions are pretty coveted, because RAs get their on-campus housing for free, are assigned to single rooms, and receive a $3,000 stipend.  There is a good outline of the roles and responsibilities of RAs online.  If your student is interested, be sure to direct him or her to this web site.  (Several of my academic advisees have gone on to be RAs and they seem to enjoy the position.)
Because of the financial benefit to being an RA, it is a competitive process.  So if your student signs up and he or she does not receive an RA position, please know that demand always exceeds supply and do not take it personally.  But for very responsible students who can make the commitment to being an RA and who would enjoy it, I hope they will consider it.
Click here to learn more about this wonderful leadership opportunity.