For parents and families of the Early Decision students enrolled into the Class of 2022, we are eager to welcome your student to Wake Forest in August 2018!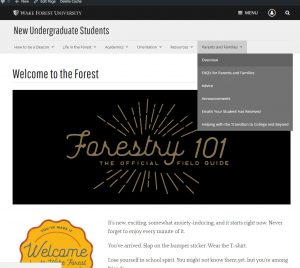 So that we may begin including you on important communications from Wake Forest, please complete a Family Record Form online at your earliest convenience. Please be sure to include your email address on this form, as email is the primary means of communication with Wake Forest families.  Once we have your email, we will begin including you on our Wake Parents and Families email newsletter; see archives here.
If you are an alumnus/a, or have another student enrolled at Wake Forest, you do not need to submit a new Parent Record Form, as you are already in our system. If you have a new address, email, job, etc. simply update any new or changed information via the Update Information Form. This form is used for all alumni, parent and friends' updates.
Some of our international students have had difficulty getting the Parent Record Form to show up on their computers. Sometimes computer forms work better in one Internet web browser better than another.
The Parents and Families Page will be your portal for news and information especially for parents and family members.  We hope you will bookmark it and visit it often.
Daily Deac Blog
We have a Daily Deac blog which is meant to give parents and families (and even admitted students) a glimpse of life on campus. You can subscribe to the Daily Deac by entering your email address in the SUBSCRIBE box and following the instructions sent to your email address. We also invite you to follow us on Facebook (Wake Forest Parents) and Twitter (WFUParents).
Commonly Asked Questions
When is Campus Day for Accepted Students and what is the schedule?
Admissions will host Campus Days on April 13 and 20, 2018; this is an optional program. Accepted students and their parents or families can choose to attend the day that best suits their schedule. The Campus Day schedule will be posted in late March and that will have a means to register for the event. Admissions has shared some information about the day:
While Admissions has not yet published the schedule, in past years the event has run from approximately 8 am-3 or 4 pm and has generally included a welcome program in Wait Chapel in the morning, then families can go off to attend a variety of activities (simulated classes, open houses for particular interests, tours of campus and residence halls, etc.) Lunch is on your own, and then there is a final plenary session in Wait Chapel in the afternoon, followed by a Student Activities Fair.
In terms of the potential schedule, there is one new twist this year, and that is that we have a new Wake Downtown campus that hosts a lot of our STEM classes; we do not yet know if Admissions will be offering any programming at the Downtown location, and if they were, whether that would happen during the day on Friday or if it would be the night before or the day after.
Most families who are not within an easy driving distance choose to arrive on Thursday afternoon and fly out on Friday early evening or Saturday morning. We do not house students in residence halls; they must stay elsewhere (typically in a hotel with their parents/family members). Most students come with at least one parent/family member, but some come solo. That would be up to your family to decide what feels best.
When will my student need to move in and when is Orientation?  I want to make travel plans now.
Here are a few dates for your calendars (additional information will be available next spring):
August 22 – Move-In Day for new students and Orientation programming for parents and families.
August 23 –Parent and family Orientation activities (programming ends around 8 pm).
NOTE: Some students choose to participate in Pre-Orientation programs that take place just before Move-In; you may wish to delay purchasing airline tickets until after the New Students web site goes live and your Deac can see the offerings. We encourage you to consider making hotel reservations now, as those can typically be adjusted. There is a list of local hotels available at http://about.wfu.edu/visiting/hotels/.
Can I make travel reservations for Thanksgiving or Winter Break once the academic calendar is set?
It would be wisest to wait until your students has his/her final course schedule (after Orientation) to purchase airline tickets for breaks.  Students must consult their course syllabus for each class and/or talk to professors about the course schedule and final exam times. While families can use the academic calendar as a general guideline for travel, some professors will schedule exams or assignments on the last day of class before break; other professors have attendance requirements that only allow a certain number of missed classes. Final exam schedules will be posted on the Registrar's web site when they are finalized. NOTE: women participating in sorority recruitment will arrive in January a few days before classes begin.
What is the New Students web site?
In mid-May 2018, newstudents.wfu.edu will be updated and will have a special section just for families.  Note: The information currently on the New Students web site is for the Class of 2021 only.
When does my student need to register for classes, select housing, need to provide medical documentation, etc.?
All incoming students in the Class of 2022 will do those activities (and many more) during summer 2018.
When is Family Weekend 2018?
Family Weekend will be held September 28-30, 2018. Family Weekend activities are planned and facilitated via the Office of the Student Engagement; they will have more information available in early summer at the Family Weekend website.
What local hotels are recommended?
There is a hotel list available online.
For More Information
Please feel free to contact the Office of Family Engagement at parents@nullwfu.edu if you need additional information or assistance.