The holidays are coming, and today I want to share a couple of holiday traditions that your first-year students can (and should!) partake in between now and final exams.
The Lighting of the Quad will be held at 7:30 p.m. on November 28 on the Quad (Hearn Plaza). Student Union puts on this annual celebration, and it is a great feel-good event spanning multiple faith traditions. There will be musical performances, hot beverages, pastries, reflections, and the lighting of the campus Menorah, Christmas trees, and Quad trees. Here's a sneak peek from a past Lighting of the Quad.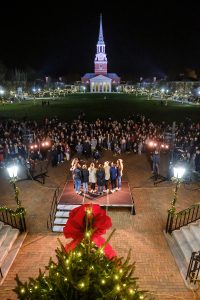 The Wake Forest Lovefeast will be held Sunday, Dec. 3, at 7 p.m. in Wait Chapel. This annual candlelight service is one of my favorite Wake Forest traditions because it's a wonderful way to get into the holiday spirit. It also gives students a much-needed study break before exams begin.
Following a tradition started by Wake Forest students in 1965, our entire campus gathers for holiday carols and inspirational readings. There is a communal 'meal' consisting of a Moravian bun (which is sort of like a sweet hamburger roll with nutmeg and allspice) and a cup of sweetened coffee. The highlight of the evening is when the chapel goes dark, then Moravian candles are lit one-by-one, until the chapel is filled with the glow of candlelight. 
It really is a special evening that many Wake Foresters cherish. While broadly a Christmas service, all are welcome. Parents and families are invited to join remotely via livestream at lovefeast.wfu.edu.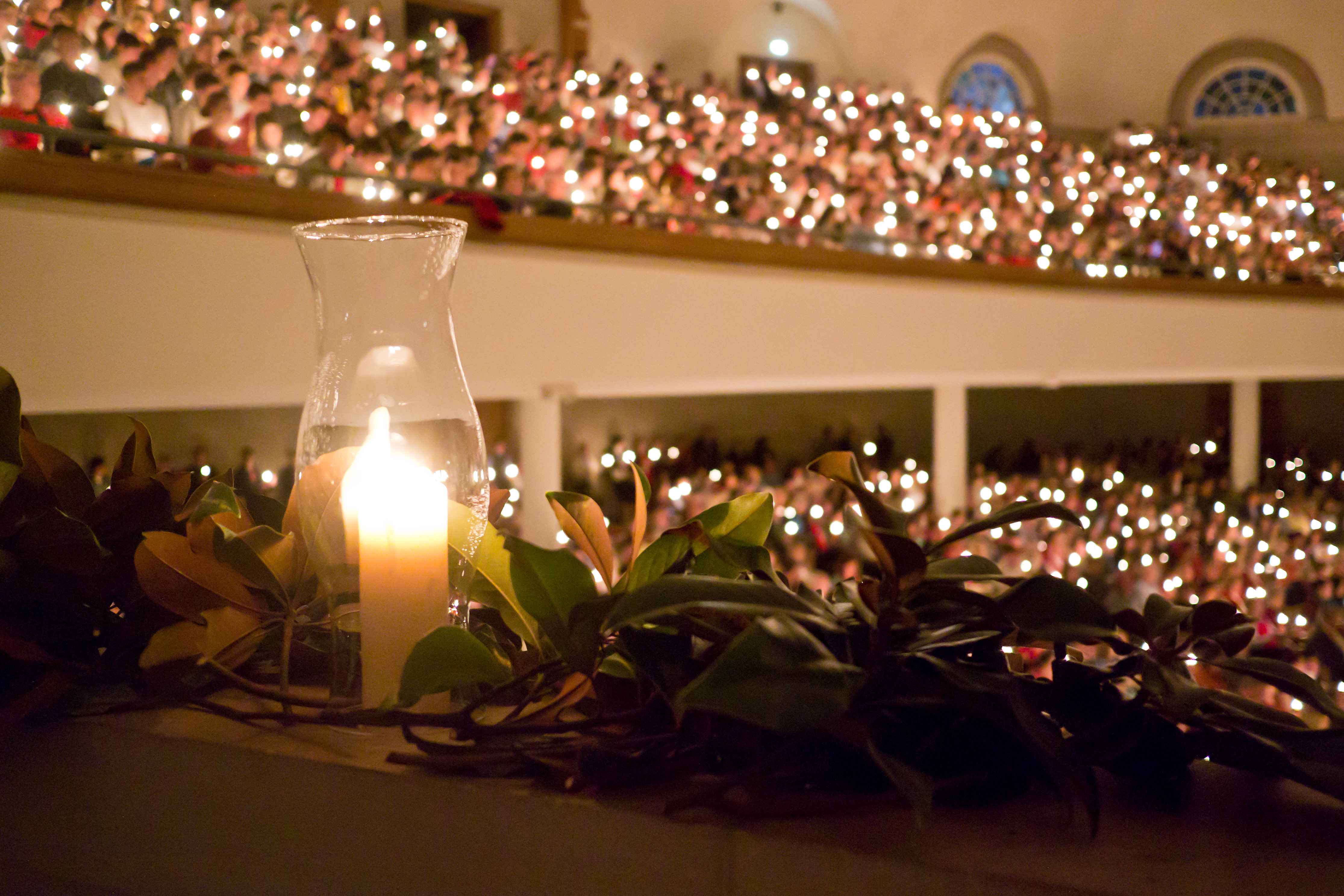 Late Night Breakfast will be held December 6 at 10 p.m. in the Pit. This is such a fun event during the lead up to finals. Students can come to the Pit at night to carb-load and eat some great breakfast proteins to fuel them for studying. There traditionally is music, and some giveaways, and faculty and staff work the food stations. It's a lot of fun and builds community. Some students come in pajamas. They are my favorite.
Chanukah on the Quad will be held on the Lower Quad on Thursday, December 7 from 6:30-7:30 p.m. Your Deacs can kick-off Chanukah with a donut and latka bar, music, a giant menorah and dreidel, and much more!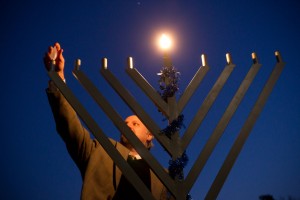 ---
Traditions like these help our students have a sense of the spirit of the holiday season. We hope your Deacs will take advantage of these fun and festive offerings.