In this Issue:
Family Weekend: September 22-24
Homecoming: October 20-22
Important mold and mildew prevention info
Global Village Living & Learning Community applications open
Dean's Student Advisory Panel (DSAP) applications open
Some terrific advice about mistakes from Letters So Dear
Sending good thoughts to families awaiting Early Decision/Early Action admissions decisions
Today I am sharing some big news – Family Weekend will be held September 22-24! There are also a couple of opportunities for your Deacs that might be worth considering, and some important reminders for residential students about mold and mildew prevention.
I also wanted to feature a student's fantastic advice about how to reframe mistakes, which I hope families of all years will read. Finally today, I know there are many high school seniors who are awaiting Early Decision/Early Action admissions notifications, so I share my thoughts on that process (since I am going through it too!) As always, read the parts that serve you and skip those that don't 🙂
Family Weekend: September 22-24
The football schedule was released last night (Monday 1/30) and the staff who plan Family Weekend have already released the date for Family Weekend: September 22-24. 
None of the details are set yet other than the date, so for now, mark your calendars and start the process of securing lodging if you need it.  For a list of local hotels, check visitwinstonsalem.com. Please also consider Airbnbs, VRBOs, etc. as well as hotels outside the immediate near-campus/downtown Winston-Salem vicinity; there are some great hotels in Greensboro and High Point (about a 30ish minute drive from campus).  
The  Family Weekend website will provide more information closer to the summer, though families should be aware that we will not know kickoff time until 10 days before the game. Typically Family Weekend registration opens sometime in the summer; I'll let you know as soon as I am told the date. We appreciate your patience as we begin working on the weekend's events. 
Homecoming: October 20-22
Alumni families will note that Homecoming will be held in October. Our Alumni Engagement team will be working on that event and providing details via their website in the coming weeks and months, so stay tuned. 
Important mold and mildew prevention info
As part of the University's Mold Management Plan, the Office of Residence Life and Housing continues to distribute information about the potential for mold growth at the beginning of each semester. Read the message residential students received here.
Global Village Living & Learning Community applications open
I received an email about the Global Village Living & Learning Community late last week. If you have a current first-year, sophomore, or junior, this could be a terrific way for them to secure their next year's housing assignment early and with a built-in community of folks with like interests. I encourage you to share this if your Deac might be interested.
"The Global Village Living & Learning Community is now accepting applications for the 2023-2024 academic year. The Global Village Living & Learning Community consists of globally-minded students from a broad spectrum of majors who reside together for a full academic year and commit to collaboratively explore a global theme through curricular and co-curricular activities. The Global Village is an intentional community focused on cultivating social, cultural, and intellectual development of participants and is designed to foster engagement with the broader Wake Forest community (click photo to enlarge).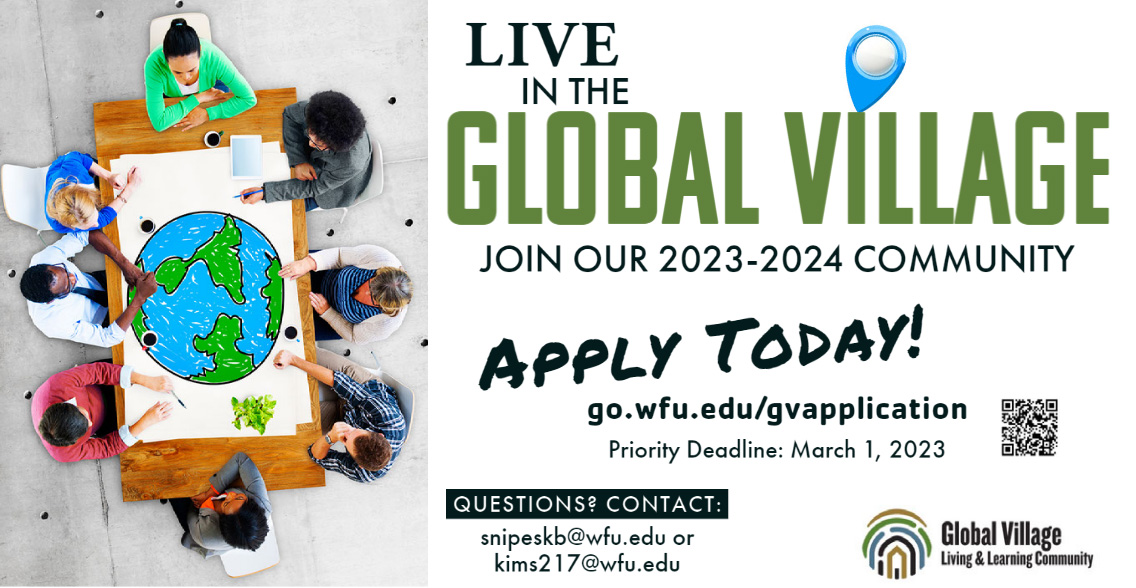 All rising Sophomores, Juniors, and Seniors in good standing are eligible to apply. As a part of the Global Village, students enroll in a 1.5 credit hour course each semester and participate in regular social and co-curricular experiences. This LLC is a part of the Residence Life & Housing Residential Engagement Communities and is jointly conducted by the Center for Global Programs & Studies. Interested students can direct any questions to Kim Snipes."
Dean's Student Advisory Panel (DSAP) applications open
I ran across this notice and it looks like it could be a terrific way for students to get engaged on the academic side. If this interests your Deac, please share with them.
"The Dean of the College Office seeks engaged students who think critically about learning and ways to enhance and improve academics to join the Dean's Student Advisory Panel (DSAP). This panel is a place where students can express and advise others about Wake Forest academics and share knowledge and insight about the student experience. The panel meets monthly. Applications are due Monday, February 6, at midnight."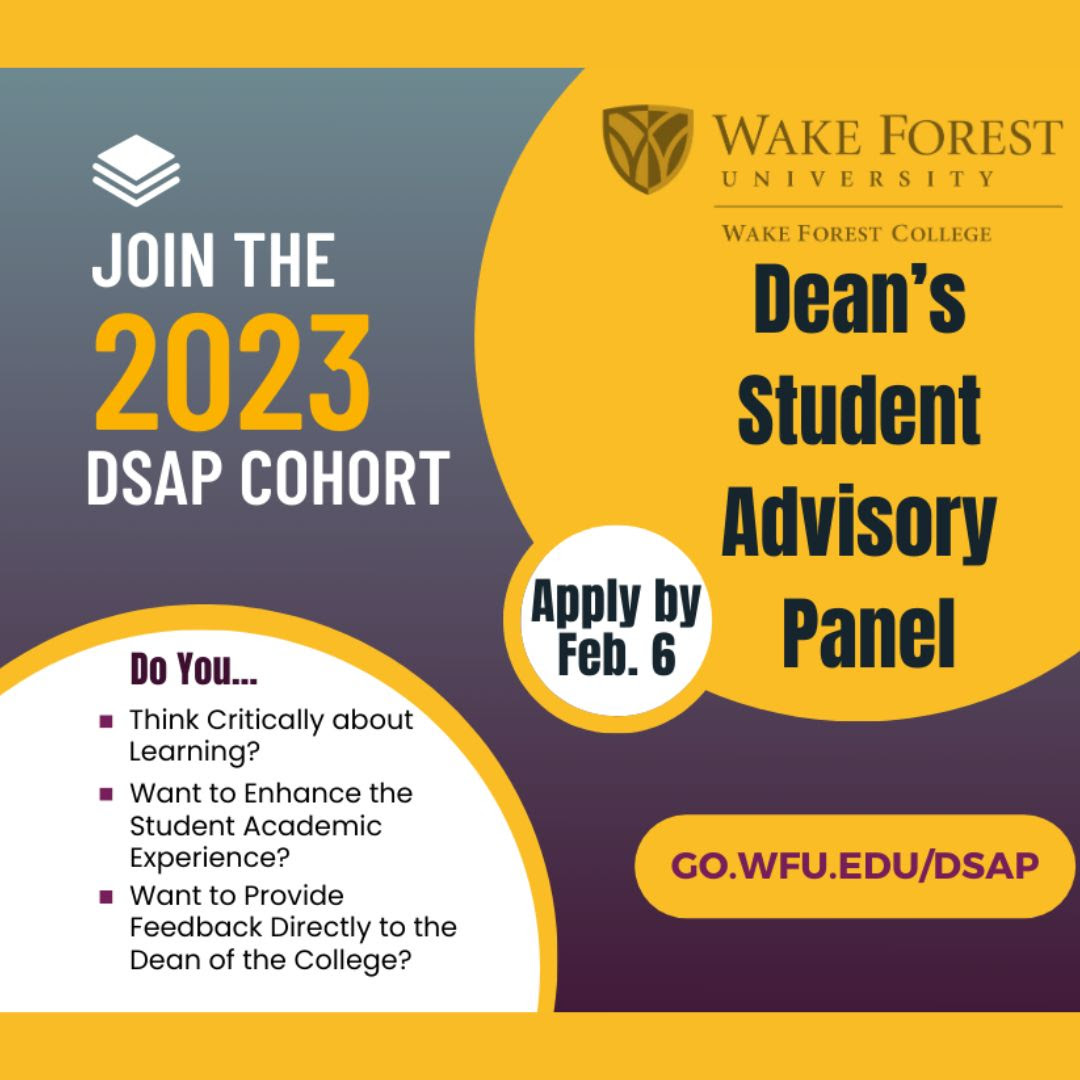 Some terrific advice about mistakes from Letters So Dear
Each Monday, our first-year students get an email with Letters So Dear, which is advice from an older student or young alum on some aspect of the first year of college. All of the letters contain great ideas and suggestions for our newest Deacs, but this week's Letters So Dear had this pearl of wisdom that struck me as so true:
"Mistakes are just information that point to how you can grow." (emphasis mine)
Our students are going to make mistakes in college. That is the rule, not the exception – and that is not a diss on any of our kids; that is the reality of where their not-yet-fully-formed brains are at this age. Executive functioning, or the ability to plan, self-monitor, exhibit self control, have flexible thinking, etc., are formed pretty late in the brain. So it is normal that students make mistakes, be they big ones or small ones.
Because our students typically have been so successful, making mistakes can feel especially brutal to high-achieving students. And as Letters So Dear suggests, that can lead to a lot of self-flagellating, negative thinking, shame, and more. BUT – our letter writer beautifully reframes mistakes as markers along your path that can help you see how to grow – to do differently or better next time. And in that reframing, you can learn something valuable.
Next time your Deac makes a mistake and is fretting over it, you may want to have this line at the ready to remind them that mistakes are human, normal, happen to everyone, and provide information on how they can grow.
Sending good thoughts to families awaiting Early Decision/Early Action admissions decisions
Speaking of students…there are families in the Daily Deacdom (like mine!) who have been awaiting admissions decisions for their high school seniors at the various colleges they have applied to Early Action or Early Decision. I know from my own family that this can be a highly stressful time, and I am sending all good thoughts to your high schoolers that they get good news from all their schools.
But I also know that many will not get the news they hoped for – including my own son, who was not admitted to one of his top choice schools. Fear not, he still has two very good choices that he likes a lot, but he was still surprised and disappointed (as we were as parents) to get a "no" from a place where we all thought he'd be a clear "yes."
For any of our Daily Deac-ers who might be facing similar circumstances, I found this article really helpful in processing the decision. Many other families will be facing the admissions decision notifications closer to mid- to late-March. Again, I hope your seniors get in All The Schools. And if they don't, that article may be something to look at.