It's almost Thanksgiving, so I am catching you up on the last bits of news before I depart on PTO tomorrow.
University offices will be closed Thursday and Friday (Nov. 24-25) for the Thanksgiving holiday.
If your Deac is staying on campus, here are a few key things of which to be aware:
The Hours Page shows hours of operation for various campus services and buildings during the Thanksgiving break.
On Thanksgiving Day, the Wellbeing Center has arranged for a catered lunch from East China that will start at 12:15 p.m. in the Wellbeing Center living room. It will be free for all undergraduate and graduate students and be a self-serve buffet featuring 9 entrée options. The Wellbeing Center will also be offering ping pong, foosball, basketball, badminton, cardio & weight machines, and climbing wall.
If your Deac has an urgent need during the time offices are closed, they should use our After Hours Help page for assistance. University Police works 24/7/365.
For those who want to get a jump on Black Friday, my colleagues at University Stores have alerted me to an upcoming Friends and Family Sale from Nov. 23-28. This is an online-only sale, and my colleagues thought some parents and families may be interested in taking advantage of it with the holidays right around the corner. I am told there are some pretty good discounts and free shipping to boot! See the picture for more details (click to enlarge).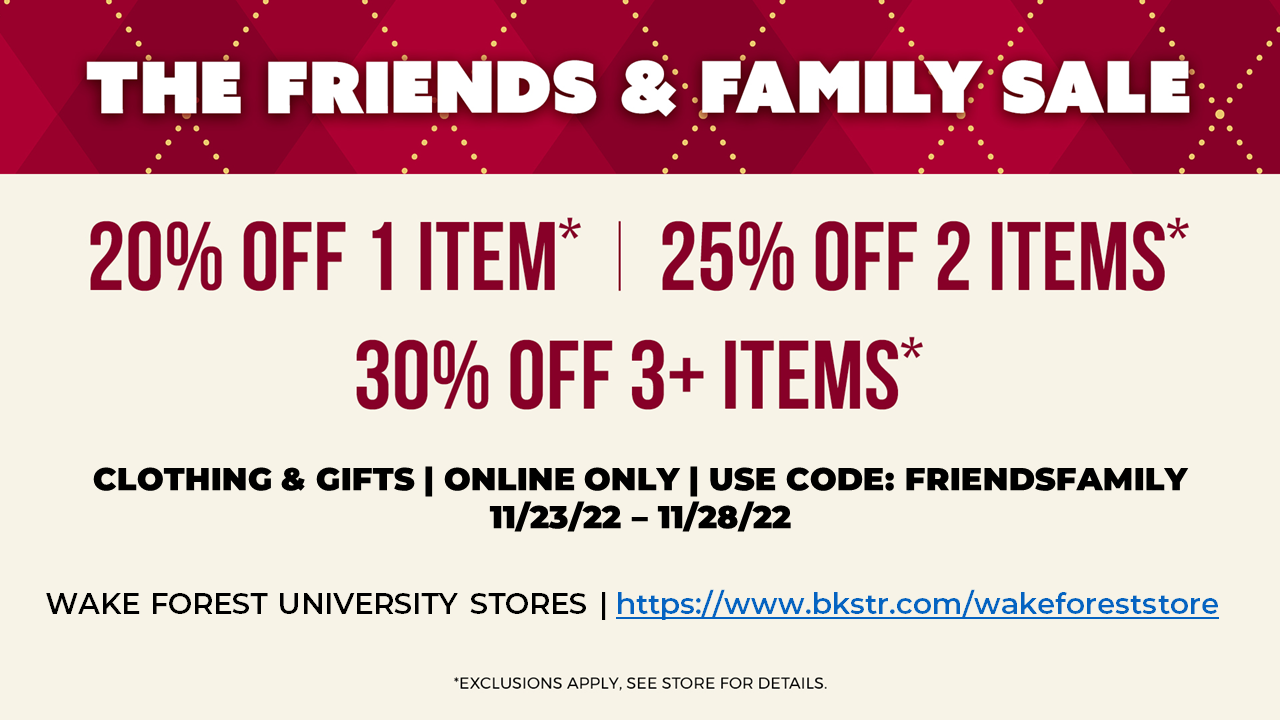 For our P'26s, your '26 Deacs got their Letters So Dear on Monday, and we also posted a new Weekly Message for First-Year Families on WFU traditions for the holidays.
And we'll close with a program note: there will be no Daily Deac for the rest of this week (Weds.-Fri.) due to the Thanksgiving holiday. We'll be back again on Monday the 28th.
Wishing you all a very happy Thanksgiving! Here's a card from a Turkeypalooza from years past.