It's a new week, so time for another Meet A Deac! Today it is my pleasure to introduce you to one of my colleagues from the Center for Global Programs and Studies (GPS), Christina Canon.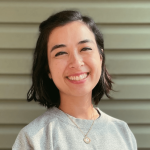 Christina, so grateful to have you be this week's Meet A Deac! Let's start at the beginning: tell me your job title and how long you've been at Wake. My title is Study Abroad Advisor in the Center for Global Programs and Studies. I am very new – I started in June 2022!
Wow – welcome to Wake Forest! Tell me a little about your educational background. I have a BA in International & Global Studies and French. I also have an MA in Teaching English to Speakers of Other Languages.
How would you describe your job in layperson's terms? My job is to advise and support students before, during, and after they study abroad. I mostly work with the Wake-sponsored programs, which includes programs hosted in Spain, France, Chile, Italy, and more!
What would you like families to know about the work of your office that they may not realize? There is a lot that goes behind the scenes when a student goes abroad. From guiding students to programs that match their major requirements, to helping them manage culture shock, our work often involves many people, and even ones outside of our department. Also, close to 80% of Wake Forest students study abroad! This is a pretty impressive statistic that I am proud to now be a part of supporting. 
You've been here a pretty short time. Is it too soon to ask you if you have a favorite place on campus, or what you like best about working at Wake? Those are two of my standby questions 🙂 Not too soon for me to answer! In terms of favorite places, I would say the Quad. The lawn there is so beautiful. What I like best about working at Wake is the people in my department. They have been extremely kind and supportive in my first few months of working here.
What advice would you offer to students if they asked you? Go outside your comfort zone!
How about advice for families? In a similar vein, I would tell families that studying abroad is an extremely beneficial experience for students, both personally and professionally. Encourage your student to consider an abroad experience.
Ready for the quick hit, lightning round? Let's do it!
Favorite music/genre/band? My favorite genres are Acoustic, R&B, soul, and retro.
Movies/TV/Netflix, etc. that you love: For TV, it's New Girl. For movies, it's the Harry Potter series.
Introvert or extrovert? Introvert.
What brings you joy? My family and dog!
Thank you, Christina, for all you are doing to help our students who are studying abroad!
As a reminder, read past Meet A Deacs here.
— by Betsy Chapman, Ph.D. ('92, MA '94)