Happy Monday – it's Meet A Deac day! Before we get started, I need to make a correction to the Daily Deac from last week, which talked about items I'd seen in a Student Union email. The date for the Senior Sendoff is not tonight; it is April 21st. My regrets for any confusion with our P'22s.
And now, I am pleased to introduce you to a colleague I have worked with very closely throughout the pandemic: Melissa Walker of the Student Health Service.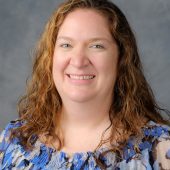 Melissa, so glad to be featuring you today, since you did so much – often behind the scenes – for our students during COVID. We'll start off today with the basics: tell me your job title and how long you've been at Wake. My title is Assistant Director, Student Health Service, Business Office and Compliance. I've been here for about 6 years.
Now tell me a little about your educational path. I have a BS in Criminal Justice and Child Psychology from Ball State University in Indiana.
How would you describe your job in layperson's terms? I am in charge of the front-facing business office of the Student Health Center. I interact mostly with the students for compliance: there are many state and school vaccines that are required, and I make sure that all of the students have those up to date to keep everyone safe. I also speak with many students concerning ADHD assessments. I discuss the paperwork needed to start the process.
Speaking of students, I know you are mom to a college student-athlete at a nearby school. What advice would you give students if they asked you? Enjoy every minute! Join clubs, put yourself out there, and meet people.
And what advice would you give families if they asked? Give your kids space to grow and make mistakes. They will be ok 🙂
I know your job and your office faced many challenges during the pandemic. What would you say challenged you the most? There are too many to list! I think changes to CDC protocols and having to shift procedures multiple times a day – that made it really tough. It was also hard trying to keep our students safe and healthy when they (understandably) wanted to have their college experience at the same time.
What do you like best about working at Wake? The collaboration. Our various campus offices work together and bring a different knowledge base to every situation, all with the goal of providing the best experience for the students, parents and families, staff, and faculty.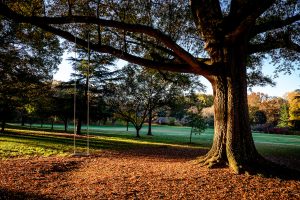 Do you have a favorite place on campus? Wow, that's hard, because campus is so beautiful. I really like the wooden swing. My daughter had her junior prom pictures taken there.
Now to the bonus questions!
Book(s) you're reading now: Anything romance. I read things that I don't have to think about. With everything going on in the world and with all the COVID stuff, when I read, I want to get away.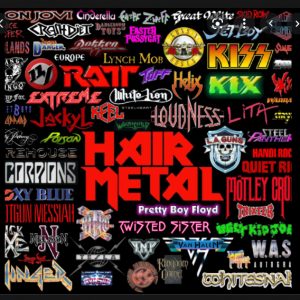 Favorite music/genre/band? I'm a big fan of current country music and 80's Hair Bands 🙂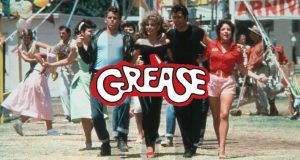 Movies/TV/Netflix, etc. that you love: Movies: Grease, A League of Their Own, Marvel movies in general. TV: Survivor and cooking shows.
Websites you frequent: Amazon, Target, Sam's Club.
What's a special indulgence for you? Sleeping in on a day off.
Introvert or extrovert? Extrovert. I truly have never met a stranger. I love to meet new people, and learn about them and their lives.
Something most people don't know about you: I make paper baskets and sell them at craft shows.
Thank you, Melissa, for all you do in the Student Health Service to help our students' physical wellbeing, as well as everything that you and your colleagues did for public health during the pandemic. I know firsthand that was a heavy, heavy lift.
As a reminder, read past Meet A Deacs here.
— by Betsy Chapman, Ph.D. ('92, MA '94)