It's a new year and we are back to work, and we're easing back in with a new Meet A Deac! Today it is my pleasure to introduce Jackie Sheridan of the Scholars Office.
J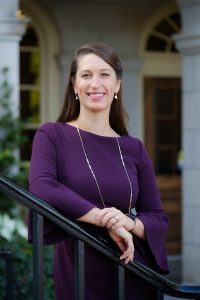 ackie, thanks so much for being our Meet A Deac this week. Let's start with the easy questions: please tell me your title and how long you have been at Wake. I'm the Director of the Scholars Program and head of the Scholars Office. I have been here more than a year and a half; I joined Wake Forest in late July of 2020.
And tell me a little about your educational background. I graduated from the University of Notre Dame (majored in Russian and Political Science, with a minor in Peace Studies) and also Georgetown University (Eurasian, Russian, and East European Studies). Try fitting that on a diploma!
In layperson's terms, what do you do at Wake? In the plainest of terms, our office helps students engage more closely with Wake Forest by connecting them with opportunities and resources, and advising them when they run into challenges. I spend much of my time with our Merit Scholars and supporting students who apply for external scholarship opportunities like the Rhodes, Marshall, and Mitchell programs.
What do you like best about working at Wake? Oh, the people! Even when we were in the worst of COVID, that was a highlight — colleagues offered to have meetings while going for a walk and whipped up socially-distanced dinners outside, while students responded to the pandemic with great grace and openness. I am still delighted by how many of our students take the time to ask, "How are YOU doing?" after I pose that question to them in a meeting. It's a small but noticeable thing — most people here truly care about those around them.
COVID impacted all of our jobs in so many ways – what new tasks did you have to tackle during the pandemic? What were some of the challenges? Considering I started in 2020, everything was new during COVID! The most difficult challenge was trying to build a sense of community amongst our Scholars without being able to meet much in person. Another ongoing challenge was helping our students keep perspective: after months of a grinding pandemic, of course it's natural to feel worn out, with all that accumulated exhaustion – and yet, we have to try and stay motivated.
Continuing with that theme – what were you most looking forward to as we started the fall semester? This fall has been night and day from last year; it feels like I'm getting to have a "first year at Wake" all over again. In terms of in-person activities, I was most looking forward to an in-person Lovefeast!
You obviously have a lot of student contact in your role. What advice would you give students if they asked you? Don't worry about perfection. As someone who supports our Rhodes Scholarship candidates, you might think that I'm a fan of students with pristine 4.0 GPAs — and I'm not, really. I'd much rather you explore new topics and push yourself to the limits of your existing knowledge (so you can grow beyond them). We dedicate an outsized amount of stress and anxiety to a number [GPA] that rapidly begins to fade into irrelevance once we graduate.
What about advice for parents and families? Our students are here to not only learn about British literature and physics, but about themselves, too. Ask about all elements of their lives and how they're learning and growing outside of the classroom. Encourage them to sound their curiosity and explore widely; often, the most personally-important classes happen outside of one's major. And support them if they're wrestling with a challenging-but-fulfilling class; a perfect GPA is not what going to be the thing that makes or breaks their future.
Now it's time for the bonus questions!
Book you are reading now: I just added The Known World to my Kindle as part of my goal to read all the Pulitzer winners (in fiction and non-fiction) back to the year I was born. Other highlights from this year included some student recommendations (The Invisible Life of Addie LaRue and The Buried Giant) and Empire of Pain about the Sackler family (whose company made OxyContin), Patrick Radden Keefe's latest (his Say Nothing is one of my all-time favorites).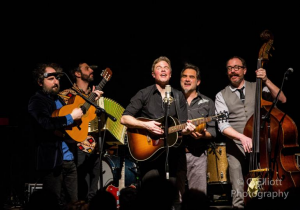 Favorite music: Josh Ritter, Sault, Janelle Monae, Leon Bridges, and OK Go continue to be my favorites.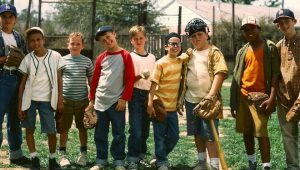 Favorite movies, TV shows, Netflix, etc.: The Sandlot and The Prestige are my favorite movies, hands-down. Ted Lasso and Better Off Ted satisfy that need for "feel-good" entertainment that I've been craving during the pandemic. On the complete other end of the spectrum (and fitting with my background in Russian), Chernobyl is one of the most perfect and perfectly devastating miniseries I've ever seen.
Websites you frequent: Trello, Discord, and a rainbow color-coded Gmail Calendar keep my life organized. The Wirecutter is my first stop before buying anything. Atlantic and Wired make up most of my longform article reading, while You're Wrong About is probably my most-listened-to podcast.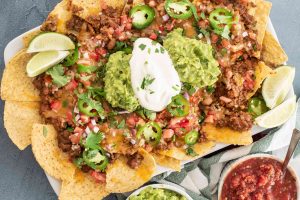 Guilty pleasures: Nachos, Jeni's Salted Peanut Butter with Chocolate Flakes ice cream, chai at all hours, and a bath with a book.

Introvert or extrovert? Right on the knife-edge in between… Being with people gives me joy, energy, and ideas, but I also need space and quiet to process and appreciate those things fully.
Something most people don't know about you: I have no sense of smell, though that dates from long before COVID, back to when I was 8 years old and a baseball coach said "Think fast!" I didn't think fast enough and caught the ball with my face instead of my mitt… permanently breaking my olfactory wiring.
What question didn't I ask you that you wish I had? "How do we find you?" We're in the lower level of Tribble Hall, in room A5. Stop by any time! You can also see which awards Wake students apply to most often with our office's help here.
Jackie, it was great to have you with us as our Meet A Deac, and thank you for all you do for our students and scholarship on campus!
As a reminder, our Meet A Deac archive is here.
— by Betsy Chapman, Ph.D. ('92, MA '94)