Happy Friday, Deac families. We are at the end of the week, and the forecast projects a spectacular fall weekend: cool and crisp. It's definitely time for students to bring out their light jackets or vests, or layer their clothing. It's cool in the morning and a jacket is welcome, but if you are outside in the sun for any length of time, you may need to take it off again. Fall in Winston is funny that way.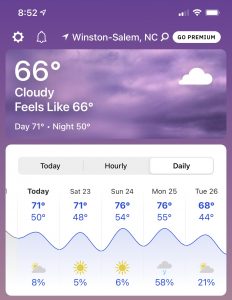 We had an announcement today about our Face to Face speaker series, which will be held on November 9th. While Colin Powell was to be one of our two speakers, before his untimely passing, we now have another former Secretary of Defense, Chuck Hagel, joining Madeleine Albright for the event. As a reminder, there will be a student event with Secretaries Albright and Hagel at 5 pm Nov. 9 in Wait Chapel. The student event with Malcolm Gladwell was excellent, so please do urge your Deacs to take advantage of this opportunity.
Keeping with the theme of government and our nation's capital, last week, President Susan R. Wente toured the Wake Washington Center and met with students and alumni. Located at One Dupont Circle, the Wake Washington Center builds a bridge between campus and Washington, D.C. Sixteen students are studying at the Center this fall and interning at government institutions, non-profits, think tanks and other organizations. They are learning from resident professor Steve Gunkel and connecting with a wide range of alumni who work in D.C. 
"It is a wonderful space that houses a unique program with a compelling story to tell," said President Wente. "We are providing amazing opportunities for our students through robust internships, meaningful connections and conversations with alumni, parents and friends and engaging experiences inside and outside the classroom."
For a glimpse of Dr. Wente's tour of Wake Washington Center, watch this short video.
Multiple academic advisees of mine have done the Wake Washington program and they just loved it. It gives students a semester away (without going abroad), along with internship experience, and a chance to hear from our many Wake Forest alumni, parents, and others who are thought leaders in DC. Definitely something for your Deacs to consider.
Project Pumpkin will be held next Thursday, October 28th, and will look a little different than previous years. Here is some information from the Office of Civic and Community Engagement:
"Project Pumpkin is back this year with a re-envisioned, off-campus event in partnership with the City of Winston-Salem Recreation Centers Fall Festival.
Based on the continued spread of COVID-19 and feedback from our partners, we are choosing not to host a large-scale gathering that brings children from various sites to one central location. With that said, events will be moved from the Reynolda campus to existing events at local community centers on October 28 from 6-8 p.m. EDT.
Project Pumpkin will partner with five Winston-Salem Community Centers for activities, including:
The event is free and open to the public. Children ages 3-10 must be accompanied by a parent/guardian. More information about the Fall Festival can be found here.
Additionally, students, faculty and staff can engage and participate in one of two ways:
As a general event volunteer.
By hosting a booth at one of the five Fall Festival sites."
Even if it isn't on the Quad (for understandable reasons), our students will still be bringing a lot of Halloween fun to our local community, and that is something to celebrate.
As always on Fridays, consider giving your Deacs a call this afternoon. You know why 🙂
Have a great weekend!
— by Betsy Chapman, Ph.D. ('92, MA '94)
Recent Posts
December 3, 2021

December 2, 2021

December 1, 2021