Today I am sharing a number of engagement opportunities for your Deacs. As with everything, take what's useful and scroll past anything that doesn't apply to you.
Pizza with the Police, originally scheduled for tomorrow, is now rescheduled for Thursday given the rain that is in the forecast. This is a free event for students – they can grab some free pizza and get to know the campus police staff members. Great opportunity to make new connections.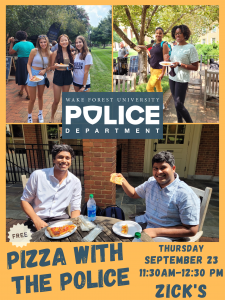 If your Deac is looking for some ways to be engaged on campus, the Deacs Decide project is a terrific opportunity:  "Are you interested in getting involved in political and electoral engagement efforts on campus and in the Winston-Salem community? Come learn more bout Deacs Decide, a highly collaborative campus-wide election engagement project that focuses on voter registration, voter education, voter turnout, and issues at stake in all elections. The interest meeting is Thursday, Sept. 30 from 6 – 7 p.m. in the Social Justice & Campus Kitchen Lounge."
Residence Life and Housing has a new opportunity for students. They work to provide secure, comfortable, inclusive, and engaging learning communities, and they are inviting students to become a part of that experience by sharing their voice and feedback with our team. Through October 1, students can apply to become a member of the Housing & Operations Advisory Board within the Office of Residence Life and Housing: "This group offers on-campus undergraduate students the opportunity to work with our Housing and Operations teams directly, serving as a sounding board on topics such as building renovations, housing selection, process planning, and future brainstorming." Read the full message.
Awake All Night – Black Light Bash Edition will be held this Saturday, September 25th from 8:00 pm to 12:00 am in the Benson Center. Come join Student Union for a fun night of prizes, retrocade games, street signs, build a bear, food, and more! Students can learn more on the Corq app.
Monday's issue of Letters So Dear went to our '25s/new students. Similarly, the Weekly Message for First-Year Families was published; this week's message is about navigating the classroom and professors. And for all P'25 and transfer families who started Wake this fall, if you have not completed the Orientation Survey that was sent from the Office of Academic Advising, please do that as soon as you can (and thanks to those who already completed it!)
For our P'24s, there is a special Sophomores So Dear message that your students received yesterday, which walks them through Sophomore Week activities from September 24th-October 1st.
And you can read this week's Wake Forest in the News to catch up on where Wake stories are featured in regional and national media.
We want to wish a happy Moon Festival to all our Chinese students and families. The Chaplain's office describes the day as follows: "Mid-Autumn Day (also known as Moon Festival or Mooncake Festival) — A traditional festival celebrated by many East and Southeast Asian people. The moon on this day is believed to be at its brightest and fullest size, coinciding with harvest time in the middle of Autumn. Family members gather to appreciate the moon while enjoying delicious mooncakes." I know we have a small but mighty following of Daily Deac-ers in China – please know I wish you all a happy Moon Festival (and hope the message below is correct!)
愿 明 月 常 与 你 相 伴, 照 亮 你 的 健 康、 幸 福 和 繁 荣 之 路.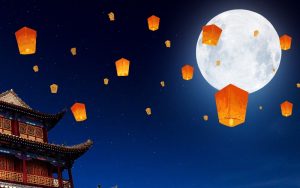 — by Betsy Chapman, Ph.D. ('92, MA '94)
Recent Posts
October 25, 2021

October 22, 2021

October 21, 2021