I'm a day late for Meet A Deac, but better late than never! One quick note for our P'25s: your Deacs received Letters So Dear yesterday, and we also published our Weekly Message for First Year Families.
It takes an enormous team of people to make a university run well. Some of those folks have front-facing jobs where interact with students or families on a regular basis; other folks may have jobs that aren't public facing, but are no less essential. Today it is my pleasure to introduce to you JL Bolt from our Facilities and Campus Services department.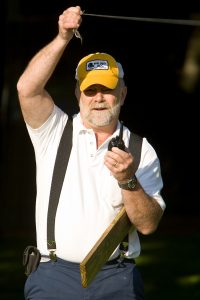 To get started, will you please tell me your title and how long you've been at Wake Forest. I'm the General Superintendent in the Construction Division of Facilities & Campus Services. I've been here twenty eight and a half years.
In layperson's terms, what do you do at Wake? The Construction Department works on many different construction projects on campus and Wake Forest properties. We work at Reynolda Village, Reynolda Gardens, Reynolda House, the University Corporate Center, Graylyn, Athletic properties, and Real Estate. I have a great and talented crew that I work with; I could not make it without them.
COVID impacted all of our jobs in so many ways. How did it change yours? It was actually business as usual, except we made many, many plexiglass barriers 🙂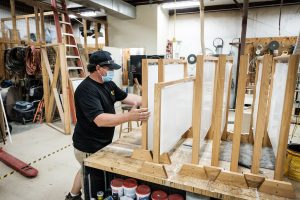 What did you miss about normal times on campus? For summer work to end and having everyone to return to campus!
What would you say your biggest challenge was related to COVID? Keeping up with the plexiglass barriers!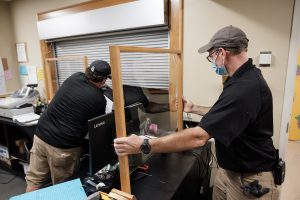 What advice would you give students if they asked you? Live on campus all four years and enjoy what Wake has to offer you here.
And how about advice for families? Very simple: keep in touch with your student.
You've been here a long time, like me. What is the best part of working at Wake for you? Working with good people to make Wake a great place for our students.
Beautifully said, Joseph. Now we'll move to the bonus questions.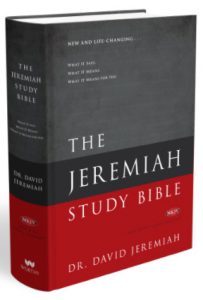 Book(s) you are reading now: Books by Dr. Jeremiah and my Bible.
Favorite music: Bluegrass and old rock and roll.
Websites you frequent: woodworking websites
Guilty pleasure: ice cream 🙂
Introvert or extrovert? extrovert
Something most people don't know about you: I do a lot of woodwork made from wood from Wake Forest trees. [I've seen your woodwork and it is so beautiful!] If anyone needs custom woodwork made from wood from Wake Forest, let me know!
What question didn't I ask that you wish I had? You could ask me about my two wonderful grandkids 🙂
Many thanks to you, JL, for all you do for our campus and facilities. We all benefit from the work you and your team do!
— by Betsy Chapman, Ph.D. ('92, MA '94)