Today is long – bear with me. We had a number of questions at the Call Center about students being moved around on campus to quarantine in place (QIP) and some shared their concern with having a QIP student sharing a bathroom with non QIP students. We went to the source on this via Dr. Chris Ohl, Professor of Infectious Diseases at our hospital. Dr. Ohl said:
This past summer, we created contingency plans for surges like what we are experiencing this week. The practice of having students quarantining in their rooms and doubling students who are in isolation in hotel rooms was reviewed closely in relation to both the CDC guidelines regarding households and congregate living environments and our own Wake Forest-specific public health guidelines.
In my opinion, and from the experience we have seen on campus and in other settings, sharing a bathroom with someone in quarantine is not a high risk as long as students wear masks, stay six feet apart in all common areas and wash hands thoroughly. Additionally, the practice of isolating people who tested positive with others who also tested positive from households and congregate settings has been in use all year for off-campus students, but not in hotels until this week. We will continue to evaluate all our public health measures as the situation evolves.
We also had a message that went to undergraduate students this evening to help contextualize where we are. Read it here. Key items within:
Update on hotel space – our hotel space is being reserved for students in isolation; we have secured additional hotel space, and it will be available soon
Update on quarantine in place and how that works – Residence Life and Housing is using unassigned, vacant rooms to assist in the quarantine process.  
The message also addresses students who are leaving campus for an extended period and why not move to Red Operating Status. 
You can read the full message and all details here.
Also have some updates on Valentine's Day and deliveries: Due to Valentine's Day, Mail Services will experience a high volume of deliveries (Flowers, gifts, Edibles, etc.) leading up to the holiday. Mail Services will offer extended hours on Saturday, February 13 and will be open from 11:00 a.m. – 5:00 p.m. Since the Mail Service's Post Office is closed on Sunday, it's encouraged that all deliveries for Valentine's Day be scheduled to be delivered prior to Sunday, February 14. Also see details on the Quarantine and Isolation page about deliveries to students in quarantine or isolation.
One last thing before I get to today's Meet A Deac profile: there are still other things happening on campus! The WFU Virtual Study Abroad Fair is this week. Students can explore the many study away opportunities Wake has to offer through the new Virtual Study Abroad Fair website. Students can watch videos from WFU faculty and Affiliate Partners and sign up to attend information sessions through Fair Week, which runs February 8-12. In addition, this week is Academic Resources Awareness Week, so lots of good info for your students to discover.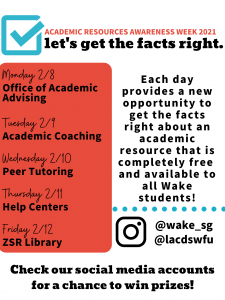 And now, it is my pleasure to introduce you to one of my colleagues in International Student & Scholar Services, Kelia Hubbard.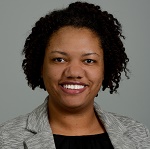 Kelia, thanks for doing this! Tell me your job title and where that fits in the overall Wake organizational structure. I am the Director of the International Student & Scholar Services Office, also known as ISSS. The ISSS is a unit within the Center for Global Programs and Studies, or GPS.
What is your educational background, and how long have you been at Wake? I have a bachelor's degree in political science and a master's degree in public administration. I've been at Wake about four years.
In laypersons terms, what do you do in your role? I lead our ISSS team of professionals in supporting immigration-related efforts for the Reynolda and Wakehealth campuses. This includes providing immigration advice and support to our international students (graduate and undergraduate), faculty, and staff to assist them in completing their goals while inside the U.S. In addition, we provide opportunities for cross-cultural learning through programming. A major part of my role is maintaining compliance with federal regulations so that Wake Forest can continue to host international students, faculty, and staff.
I do not envy you that. Those regulations seem so complex and ever-changing. How did COVID change your work? Talk to me about some of the big challenges. Immigration regulations and procedures have been rapidly changing. We have had to increase the frequency of our communications and shift the way that we offer services to our populations. Thankfully we are able to move our work into a virtual format, with some grace from the federal government. Issuing visa documents electronically and using an easily accessible calendar service so that our students can schedule their appointments. We also have worked to keep the entire campus up to date on the needs of our populations and provide updates on immigration matters that affect our populations. Which includes increased participation in campus committees.
Professionally, the biggest challenges are related to immigration regulations and maintaining relationships with our populations. Our communications are often longer so that we can ensure that each detail is clear – but this can be overwhelming. For a while, we were in a marathon of sending immigration updates, and this can be a lot for people to filter through. Personally, being a teacher and having a full-time job has been very challenging. With my two children attending school virtually, I have to assist them a lot more throughout the day.
What do you like best about working at Wake? I have received a lot of support from colleagues on campus. When you need assistance you can ask and there is support available. The ISSS team is amazing, I really can't say enough. The level of experience and knowledge on our team is outstanding.
What advice would you give students? Please speak up about any challenges you are facing. There are so many people on campus who want to help. We are all invested in your success.
What about advice for families? This is specific to our parents of international students: please tell your students to read ISSS emails and encourage them to ask questions if something is not clear. Also, the ISSS team is a resource for many things. You'd be surprised how many students talk to us about personal matters. So please let your students know that they can talk to us and if we don't know the answer we will certainly help them find the answer. We care deeply about our international population.
What do you miss about normal times on campus? I miss running into international students, faculty, or staff on campus. We work so hard to get them here, through visa processing and paperwork, it's nice to see how they are doing on campus. I also miss meeting campus colleagues for lunches.
It's time for the lightning round!
Book(s) you are reading now: I've have so much reading to do with immigration regulations and keeping up with the latest news, so books have not been on my reading list. Some authors I enjoy are Ishmal Beah, Michelle Obama, Jhumpa Lahiri, Ta-Nehisi Coates.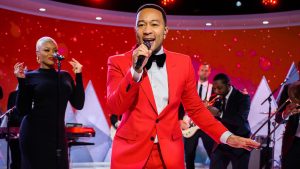 Music you enjoy: I enjoy RnB, soul, and neo-soul music. So my favorites include John Legend, Alicia Keys, Lauryn Hill, Mary J Blige, Maxwell, D'Angelo. Just music that makes you feel good and can be relatable and calming.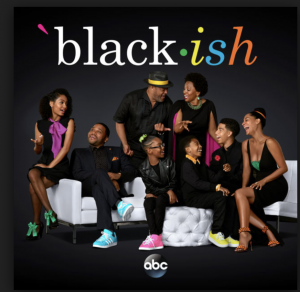 Favorite TV shows, movies, Netflix, etc: My favorite TV shows are Blackish, Mixedish, Law & Order (the old school original and SVU). For favorite movies, I like a lot of the Marvel movies, as well as Love Jones and The Best Man, and The Wood. Everyone should watch Zootopia and The Secret Life of Pets (I have kids, so I have watched a lot of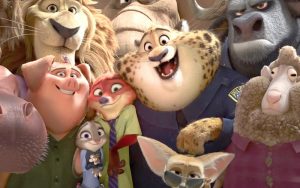 kid movies).
Websites you frequent: USCIS.gov, ICE.gov, travel.state.gov, BBC News, CNN, CDC for work; WSFCS [our local school district], YouTube for home and fun.
Guilty pleasures: Tony Baker animal voice-overs on Youtube. I watch them way too much with my family and we just laugh and laugh.
Introvert or extrovert? Both. I am either as needed for my own progress and comfort, but my preferred mode of operation is introvert.
Something most folks don't know about you: I was born in Germany, I have a German birth certificate and immunization record :).
What's the first thing you will do post-COVID when we can live normal lives again? Visit with family members. It's been really tough to stay away from everyone but it's so important to protect the people we love.
What question didn't I ask that you wish I had? What is a misconception about your work? That we are these immigration enforcement officers who just say "no" all the time. We work for Wake Forest, but we do have a requirement to report to federal agencies. We also care more about our international populations than most people know. We recognize how challenging their journey can be and we really want to make things easier for all involved, while maintaining compliance.
Many thanks to you, Kelia, and your talented ISSS team for all you do for our international students and families!
— by Betsy Chapman, Ph.D. ('92, MA '94)