Main Content
Since I work from my dining room table and don't get to campus very much, sometimes I like to watch the Quad Cam just to see what is happening. Perhaps you do this at home too? Today I caught a glimpse of a few students (I assume they are students anyway) at mid-Quad. They were occasionally on the grass and not quite running, but still juking and jiving around each other. It almost looked like they were playing tag and trying to use each other as barriers to whoever was "it," but hard to tell from so far away. Here was my view; if you click on the photo, you can see a couple of faint figures right in the middle of the walkway.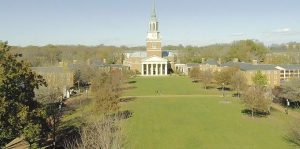 The photo shows that it is sunny again. What it can't show is that it was also really windy today, so cool and breezy. One more note about the Quad Cam: I have this secret hope that your students will tell you to log on to the Quad Cam at a specific time on your birthday or anniversary – and they'll be there with a big sign or balloons, or maybe their friends will lay down on the grass and spell out "Mom" or "Dad" or a heart, etc. Your Deacs are too young to remember this movie, but this kind of thing would work as a grand gesture 😉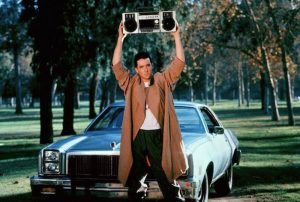 In other news, yesterday, resident students received a message about the closing of the residence halls for the extended winter break; read it here. Need to make a correction to yesterday's Wake Parents & Families e-newsletter. The two panhellenic (sorority) recruitment webinars for families are on 12/9 and 1/13 (not 1/23). In addition, a third webinar will focus on Interfraternity Council (IFC) Recruitment and it will be held on 1/19/21.
While technically the residence halls close on the 24th, there is a growing sense that students are departing on their own time and it won't be everyone leaving in a mass exodus. From conversations I have had with students this week, I am hearing a lot about upcoming registration for spring classes, travel home, and a sense of being tired and wanting some TLC from their loved ones. It's what we normally hear in early December as finals approach, just coming a few weeks earlier this year. It's nice to have some of the "normal" student conversations.
And for those who need a little holiday cheer, the Lovefeast will be December 6th, with a prelude start at 5:45 and service to follow. This is one of Wake's prettiest holiday traditions. This year, you can share it with your Deac and watch it broadcast at home. A couple of pics below to give you a mental image of what it normally looks like when social distancing isn't required.
— by Betsy Chapman, Ph.D. ('92, MA '94)
Recent Posts
December 3, 2020

December 2, 2020

December 1, 2020