Main Content
Happy Wednesday, Deac families. Starting today off with some good news: to support students looking for a quiet place to study or sit in on an online class, the College has opened up a pool of smaller, lightly scheduled or unscheduled classrooms for student use by reservation M-F, 7 am to 10 pm. See the website. Students must adhere to COVID-19 guidelines when using these spaces. Reservations are limited to two hours and occupancy to two. If students are sharing a space, they must be masked. Please allow at least 48 hours for reservation confirmation. The ZSR library also has a limited number of reservable spaces; see details.
In spiritual news, our Associate Chaplain for Jewish Life has shared information about the High Holidays coming later this month via her weekly e-newsletter. You can read the e-news, or sign up to receive it here.
As they do every fall, Residence Life and Housing sent students an email about mold and mildew prevention. We urge students to pay attention to the do's and don'ts.
The dashboard website has a new set of FAQs on it, and I am told we will see some enhancements to the dashboard over the next week or so. The numbers are low for students in isolation or quarantine, but we still wanted to make sure families are aware of some of the ways we are supporting students at the quarantine hotel:
Student stays are enhanced with day one welcome supplies
Students are provided with weekly laundry service provided by Wake Wash
Regular gift bags include snacks, microwave popcorn, notes of encouragement from staff, puzzles, etc.
Food menus and food delivery are prepared by our Executive Catering Chef and our Director of Catering
Food allergies and specific dietary needs are gathered upon arrival to the hotel
Daily snack and late night munchie bags are delivered around 6 pm
Food delivery services such as DoorDash and InstaCart is available to enhance the options and variety provided by the meal program
On line grocery and delivery services is available with the student meal plan
Return shuttle at the conclusion of the stay in quarantine is provided on demand to accommodate checking out and returning 'home' to the residence hall
Students in isolation or quarantine can request outreach support for their overall wellbeing. Students can complete the Isolation and Quarantine Wellbeing Support Request Form and then they will receive 1 email from the Wellbeing Support Outreach team with support options and 2 phone calls from a Wellbeing Coach.  The first call will be within approximately 24 hours of receipt of their form and the second within 72 hours of receipt. There are two calls to accommodate evolving needs after your student has had some time to settle into a new and temporary living arrangement. Note that the student (not a loved one or friend) has to ask for this outreach.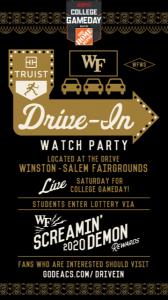 We know there is a big weekend coming up with our opening football game and College Gameday. And we are trying to create fun, socially-distanced ways for your students to be a part of the festivities while still staying safe. Students can download the Screamin' Demon Rewards app to enter the Truist Field Drive-In and watch the pep rally; more info is at wakefo.rest/gameday, and we anticipate additional communication to students.
Families, we need your continued help in stressing good behavior. The basics are wearing masks AND staying 6′ apart from each other (and of course handwashing). This week's extra COVID nuances to stress are: 1) we want to make sure your students make smart choices relative to the events of this weekend; that means participating in official WFU events when possible, or doing your own thing outdoors, in small groups, with masks and social distance; 2) we are hearing some reports of students all in a car together, no masks; please stress to your students that you can't socially distance in a car, so everyone in the car needs to wear a mask (even if they are your friends, even if you think they are being smart with their personal safety, etc.); and finally 3) remind them that masks are required in buildings (unless you are in your room, either alone or with your roommate; if a guest is with you, you must all be masked).
Masks and social distance are vital, because we want to stay in the yellow. Thank you for helping reinforce the importance of these messages.
— by Betsy Chapman, Ph.D. ('92, MA '94)
Recent Posts
September 25, 2020

September 24, 2020

September 23, 2020