Main Content
It's almost the weekend (yay!) but first we've got to get through a rainy and cool Friday (boo!) I highly recommend a Camino Bakery beverage and a pastry to help your Deac get out of this rainy-day funk.
There's good news on the COVID dashboard: it's been a low few days for new cases. Students received their issue of Your Corona Chronicles; you can read it here. Within Your Corona Chronicles, Dr. Chris Ohl has a new video about isolation and quarantine that is really worth your time. Please watch it. Also, one of our COVID requirements is for students to get flu shots. Flu shot info was sent out to students this morning; read details here.
There have been a few questions about guests in residence halls and other policies, so I want to share an update from Residence Life and Housing here. Residents must wear face coverings when they are outside of their room. If a resident chooses to have their door open to meet other residents, the residents should have on face coverings. 
There is a Guest Policy for the residence halls. RL&H defines a guest as a Wake Forest student with a current room assignment on the Reynolda Campus or in University-sponsored housing (e.g., Deacon Station & Crowne Apartments). Students must adhere to all of the requirements for guests:
1 guest per resident of the living unit (e.g., apartment, house, suite, semi-suite, bedroom)
6 feet of distance between all individuals must be maintained
No more than 10 people in a living unit at one time (if your student is in a single or double occupancy, they are still limited to 1 guest)
All individuals must wear a face-covering during their visitation time
Guests may not stay overnight
In addition, visitors are not permitted inside our residential communities. A visitor is defined as: 
A non-WFU residential student
A WFU student who lives off-campus
A friend from another institution
A family member 
As always, if your student has a question or a concern about residential living, it's a great time for families to practice Stop, Drop, and Roll: let your Deac can talk to their RA (Resident Adviser), GHD/CD (Graduate Hall Director/Community Director), or other professional staff in RL&H so they flex their own problem-solving muscles and build those relationships with staff.
This weekend was supposed to be the Wake-Notre Dame game, also known as the Duke's Mayo Classic football game. [As an aside, Duke's Mayo is something of a legend in the South, as people have very strong preferences about what constitutes acceptable mayo. There was an article in Southern Living a few years ago about Duke's Mayo, which captures something of the spirit of this tangy delight.] Anyhoo, yesterday volunteers from Wake Forest Athletics (including the Demon Deacon!), joined Second Harvest Food Bank, Duke's Mayo, and US Foods to distribute food to more than 350 families in Winston-Salem. You can see more in this photostory. A wonderful outpouring of our Pro Humanitate spirit.
Speaking of Pro Humanitate, a final reminder that Hit the Bricks starts Monday. Because of the new format, alumni, parents, and families are welcome to participate. So you can form your own teams at home and show your Wake Forest spirit:
The 17th annual Hit the Bricks for the Brian Piccolo Cancer Research Fund is almost here! Even though this year's Hit the Bricks looks a little different, the passion and energy for the beloved campus tradition is as strong as ever. The dates for this year's Hit the Bricks are Monday, September 28th to Thursday, October 1st, and throughout the week there will be fun, socially-distant events like Quiz the Bricks, a virtual trivia night, Find the Bricks, an on-campus and social media scavenger hunt, and Sprint the Bricks, a competition to run the fastest lap around the quad, and the Running Challenge, a 4-day long distance running competition.  First year students can make teams of up to 15 individuals with their friends, hallmates, student organizations, or register as an individual participant on hitthebricks.wfu.edu. Additionally, this year's new format welcomes parents, alumni, and friends to participate as well. Details.
As a reminder, the Office of Family Engagement and the Office of Personal and Career Development (OPCD) are hosting a series of virtual events designed for Parents and Families of Wake Forest students. Next Tuesday is for P'21s, and the following Tuesday is for P'22s (details to come for P'23s and P'24s). If you are interested, be sure to register.
Last but certainly not least, Yom Kippur begins at sunset on Sunday. To all who are observing, may you have an easy fast. And there are many World Cultural Week activities – encourage your Deacs to take advantage of what is out there.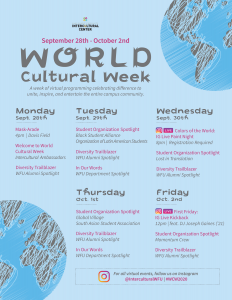 PS -it's Friday, give your Deacs a call. You know why 🙂
— by Betsy Chapman, Ph.D. ('92, MA '94)
Recent Posts
October 20, 2020

October 19, 2020

October 16, 2020