Main Content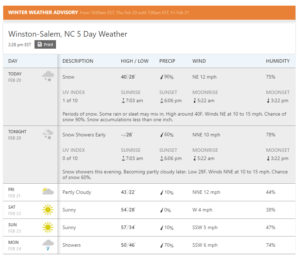 It turned cold and started snowing this afternoon around 2ish. Not sure if you'll be able to see it via the Quad Cam by the time this gets emailed out this evening, but worth a try. Local forecasts are not predicting much in the way of accumulation; weather.com at 2:30 was saying around an inch or two. Know that our weather team on campus will continue to watch the forecast and would notify students if there were any changes to our schedule (via email, web, phone, etc.).
This has been a busy week in our office, with an event Friday and Saturday, so have been relying on a lot of guest posts this week. Today's we are featuring Natalie Campisi ('20), programming chair for Tie A Yellow Ribbon Week, with information about upcoming events.
Each February, P.R.E.P.A.R.E., WFU's policy group on rape education, prevention, and response, conducts a campus-wide Sexual Assault Awareness Week called Tie a Yellow Ribbon Week. Students are encouraged to attend events throughout the week of February 24-27 designed to educate the Wake Forest community about sexual misconduct and the support resources available. Yellow ribbons are worn to honor survivors of rape and sexual assault.
The culmination of the week is the Speak Out!, which will take place on Wednesday, February 26 from 6-7:30 pm. This is a candlelit program in Wait Chapel during which anonymous testimonials of Wake Forest students are read aloud. Selected students, staff and faculty members also speak on the issue of sexual assault from various perspectives. The Speak Out is a powerful display of support for sexual assault survivors and includes representatives from many areas of the Wake Forest Community.
Feel free to contact Natalie Campisi (campnh16@nullwfu.edu) with questions about this year's Tie A Yellow Ribbon Week events. There will be counselors available to provide support at the Speak Out, and the Safe Office help line is available 24/7 for students as well: 336-758-5285.
Speak Out has been an incredibly powerful part of Tie A Yellow Ribbon Week, and I would encourage your students to go for a lot of reasons. Having a big crowd at Speak Out offers a visible show of support to campus community members who have been affected by interpersonal violence (whenever it may have happened in their lives). It's also an opportunity for those who [thankfully] have not experienced interpersonal violence to learn more about the issue and its impact: hearing the lived experiences of people who have suffered can help create understanding, empathy, and a commitment to allyship and positive change. There are a lot of things each of us may not have experienced, but is still important to know.
Also, a campuswide email went out this morning about today's Founders' Day Convocation. Read it here.
— by Betsy Chapman, Ph.D. ('92, MA '94)
Recent Posts
July 10, 2020

July 9, 2020

July 8, 2020