Main Content
It's a new week – and a busy day in my office, so today will share several messages I have received from other groups. The first three are summer options for college, high school, and middle schoolers, respectively.
Is your Deac considering law school after WFU? If so, there is a Summer Law program that might be a great fit:
Curious about law school? This program is designed to provide you with a realistic view of what life as a law student is like as well as insights into the career opportunities for lawyers. This program is offered each summer will be offered during Summer Session I (May 27 – June 18, 2020).
The course offers two classes worth of credit, both taught in the law school but offers undergraduate credit. Read more.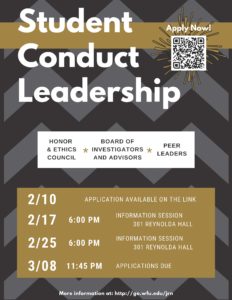 For high schoolers, there is an opportunity to get a taste of college (without the exams!) via our Summer Immersion Program. There are I believe 19 different institutes, spanning things like sports medicine, documentary film, neuroscience, policy and politics, and more. Depending on the program, students could be on our Reynolda Campus (Winston-Salem) or at the Charlotte campus. Learn more.
There are even offerings for those in the Daily Deacdom with middle schoolers:
Are your rising 7th- rising 9th-grade students looking for an interactive and engaging summer STEM experience? Introducing the new Wake Forest University Middle School Summer Exploration Program! Our six-day, overnight summer program offers hands-on learning of STEM topics such as genetics, hydrology, sustainability and epidemiology led by our very own Wake Forest faculty and staff. Students will engage in learning through the lens of a Zombie Apocalypse on campus. Led by our very own faculty and staff, they will be challenged with the task of curing the infected and preventing the spread of a mysterious toxin before the entire campus becomes contaminated. The summer 2020 application is live. Read more.
Finally, some leadership position opportunities. The Office of the Dean of Students encourages students to apply for two important leadership positions that operate within the student conduct process.
The Board of Investigators and Advisors is a group of students who serve two purposes in the conduct process:
investigate academic cases and present the cases before the Honor and Ethics Council
advise  responding students in all phases of an investigation, hearing, and appeal, in academic and non-academic cases
The Honors and Ethics Council is the body established to hear alleged violations of academic misconduct. The Honor and Ethics Council consists of ten appointed faculty members, ten appointed students, and one faculty chair.
Important helping skills for this role include active listening, empathy, and the ability to explain complex processes to students.
Both of these are exceptional leadership opportunities for Wake Forest students. Both opportunities provide direct contact with faculty and staff who can write reference letters, guide students, and support their success. Service on either group provides real, transferable skills that might pop out on a resume, etc.
Just some food for thought as you think about your younger kids' summer plans, or perhaps for your Deac's plans.
Last but not least, today's Letters So Dear for our '23s is here.
— by Betsy Chapman, Ph.D. ('92, MA '94)
Recent Posts
August 5, 2020

August 4, 2020

August 3, 2020