Main Content
Some of you have written in about the story of the fearless alumnae who were the first women of color to integrate Wake Forest's residence halls. In case you missed it, there is a story online, but also this great video with the women telling their stories. Powerful stuff.
Residence Life and Housing sent an email to all current first-years, sophomores, and juniors about housing selection for the 20-21 academic year. Read it here.
There is a new Letters So Dear for the Class of 2023. Read it here.
A message went out from Dr. Hatch about Founders' Day Convocation (next Thursday). Read it here.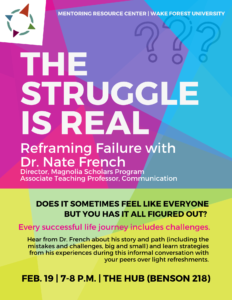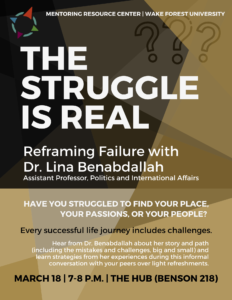 A really interesting series of talks is coming up this month and next. They are called The Struggle Is Real and they focus on helping normalize the notion of struggle that all of our students face one time or another. Encourage your Deacs to attend!
Rain is in the forecast all week. It has been gray and drizzly this afternoon, and if ever a day felt like Double or Triple Strength Monday, this is it. If your Deacs seem cranky, it could be the weather. I had a meeting on South campus today and I passed a lot of students during class change. Some of them were out without rain jackets, and many without umbrellas – and I wanted them to all go back to their rooms to get them 🙂
— by Betsy Chapman, Ph.D. ('92, MA '94)
Recent Posts
August 7, 2020

August 6, 2020

August 5, 2020