Main Content
It. Is. Still. Raining. And looks like we will have rain through Thursday. Poteat Field, where so many students play intramurals or informal sports like kicking a soccer ball around, is covered in giant puddles. Definitely not a cheery week.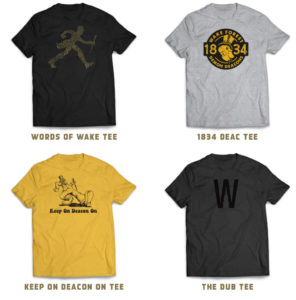 BUT…here's the bright spot in our rainy week – it's TEE TIME! My colleagues in the Wake Forest Fund are running their annual spring promotion – give a gift of at least $25, and you get a custom WFU gift. This year, it is your choice of 4 awesome t-shirt designs. If you want one of these cool shirts, all you have to do is make a gift of $25 or more and select your shirt. You can make your gift here.
I'd also be curious to know which is the Daily Deacdom's favorite design, so vote here for what you think is the best Tee Time tee!
The website has the fine print, of course. A couple of things to note: 1) if you want two shirts, you have to submit two separate orders (one for each shirt – apparently that is an IRS rule and reg); 2) you only get a shirt if you make a gift during this promotion period, which is the month of February, unless you are a member of a Giving Society (and if so, you got an email with instructions on how to claim your shirt).
All parent/family gifts benefit the Parents' Campaign of the Wake Forest Fund, so you will be supporting a great cause and looking like a Sharp Dressed Man (or Woman) at the same time.
Final notes: University Police is hosting Pizza with the Police tomorrow (Wednesday, February 12) from 11:30-12:30 in Zick's. Free pizza is just about every college student's jam, so encourage your Deac to meet the officers tomorrow.
Also tomorrow is A Conversation with Benjamin Crump at 6 pm in Pugh Auditorium. Benjamin Crump represents clients in some of the most important and contentious cases of our time, taking a place in legal history with his pursuit of justice. His passion for advocacy has given him the privilege to fight for justice on behalf of the marginalized in our country, a calling to which he remains dedicated.
— by Betsy Chapman, Ph.D. ('92, MA '94)
Recent Posts
August 7, 2020

August 6, 2020

August 5, 2020