Main Content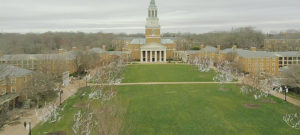 Lastnight was a great victory in Deacland: our men's basketball team beat Carolina. Read the story here. This is a big deal. Carolina is one of Wake's all time rivals, so whenever we beat them – especially at home – it is a cause for celebration. Your Deacs rolled the Quad for the occasion. I caught a screen grab from the Quad Cam so you can see it.
Interesting side note on school rivalries. Alumni of a certain age (I would say early 90s grads and before) seem to cite Carolina as the school they love to beat the most. Younger alumni (mid 90s to present) tend to say Duke is the one they love to beat. My pet theory on this is that older alumni remember Dean Smith and the dreaded Four Corners offense, and younger alumni don't remember the post-Dean years where they struggled more and Coach K seemed to have a lock on ACC basketball. Alumni family in the Daily Deacdom may have other theories. For me, nothing can be finer than to beat Carolina 😉
On to other news. Today it is not raining (at least as of when I am typing this). It is gray and overcast, but at least you don't need an umbrella. Wanted to mention something I saw the other day. There is some subtle marketing taking place in the Wellbeing Center. In the beautiful living room, where there are lots of comfy chairs and tables and nooks for studying, there are some Cards Against Humanity style cards on the tables. I looked through a few of them and found they are full of some facts about students' self-reported alcohol behaviors. Sometimes our students tend to overestimate their peers' level of alcohol use or alcohol-related behaviors, so this sort of level-setting can be a good thing.
Thanks to everyone who weighed in on our Tee Time poll yesterday. The shirt that you liked the most – with a commanding total of 50% of the votes – was the Words of Wake tee. The 1834 was a distant second with 26%, the the W at 12% and Keep On with 11%.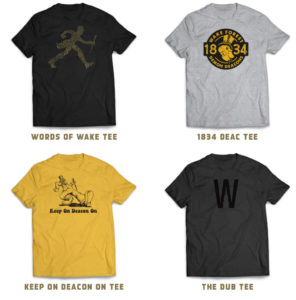 — by Betsy Chapman, Ph.D. ('92, MA '94)
Recent Posts
August 7, 2020

August 6, 2020

August 5, 2020