Main Content
Your students have a great opportunity this coming Monday to hear the 20th Annual Martin Luther King, Jr. Keynote Address. It will be given by Dr. Ibram X. Kendi. Dr. Kendi has a very impressive bio:
He is a New York Times bestselling author and the founding director of the Antiracist Research and Policy Center at American University. A professor of history and international relations and a frequent public speaker, Kendi is a contributing writer at The Atlantic. He is the author of The Black Campus Movement, which won the W.E.B. Du Bois Book Prize, and Stamped from the Beginning: the Definitive History of Racist Ideas in America, which won the National Book Award for Nonfiction. At 34 years old, he was the youngest ever winner of the NBA for Nonfiction. Stamped was named to several Best Books of 2016 lists, including by the Boston Globe, The Root, The Washington Post, and Buzzfeed. The Washington Post also named Stamped the most ambitious book of 2016.
He will no doubt give a fantastic, thought-provoking speech and I encourage all Deacs to come out and hear it.
— by Betsy Chapman, Ph.D. ('92, MA '94)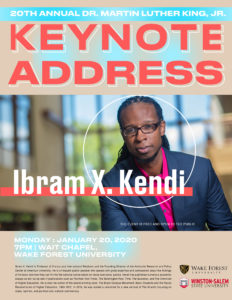 Recent Posts
April 9, 2020

April 8, 2020

April 7, 2020