Main Content
As the semester winds down, your students are going to start thinking about packing to come home (as all students must depart for the break). Sometimes that winter cleaning means they find they have clutter they don't need. This is where our friends in the Office of Sustainability come in: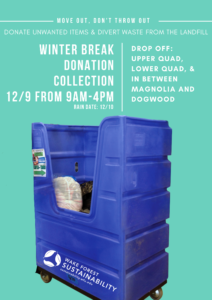 As your students prepare to head home for winter break, encourage them to take an inventory of the things in their room. Are there clothes they no longer want? Dishes or silverware from the Pit lying around taking up space? On Monday, Dec. 9 from 9:00 am – 4:00 pm, students can donate any unwanted small items before leaving campus for the semester.
Large, blue Goodwill bins will be located on the upper quad, lower quad, and in between Magnolia and Dogwood residence halls on Monday, Dec. 9 from 9:00am – 4:00pm. Students can toss your Pit-ware (dishes, silverware, cups, etc.) judgement-free into a small bin beside the others!
Your students' unneeded stuff could brighten another person's life, so do encourage them to donate, not trash whenever possible.
It's that time again! I want to draw your attention to Wake the Library, which is the ZSR Library's way to help our students as they prep for exams. ZSR is now open 24/7, and official Wake the Library food events will begin on 12/8. There is free food at 11 pm (while supplies last), the ZieSta Room (with recliners!) and so much more. Check out the Wake the Library site for details.
For families of young women preparing to go through sorority recruitment in January as Potential New Members, the Office of Fraternity and Sorority Life sent this email yesterday. There is a LOT of good content here that I recommend to any families whose daughters are going through recruitment. Specifically, there is info about housing and dining, upcoming webinars about the recruitment process, and more. Please do read all the info thoroughly.
A wise Deac mom sent me this over Thanksgiving, and it is so good it bears sharing. (Thanks, Deac mom!)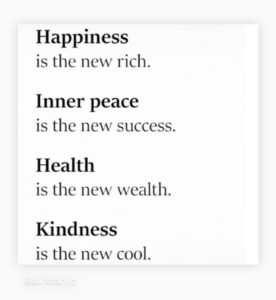 — by Betsy Chapman, Ph.D. ('92, MA '94)
Recent Posts
March 28, 2020

March 27, 2020

March 26, 2020