F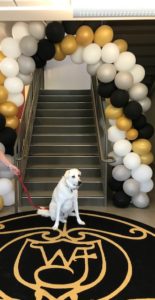 or all the dog lovers out there, today is Take Your Dog to Work Day, and my wonderful division of Wake supported this effort. So my Deac Dog was at work early today with Class of '27.
In addition to dogs, we have a lot of alumni on campus today. It is the Alumni Admissions Forum, a special service our Office of Alumni Engagement offers to Wake Forest graduates. It is a day for alumni to bring their high schoolers to learn more about the process of applying to college, what Wake and other highly selective schools are looking for, how to write the best essays, understand financial aid, and even what the role of parents and families is for college students.
Some of my own classmates are here with their kids – which seems totally impossible – and a lot of wonderful Wake Foresters from other classes too.
This is one of the many services for alumni that are offered every year. While I know most of the Daily Deacdom has students currently enrolled at Wake, make sure they take advantage of our alumni network after they graduate. Lots of benefits and great connections to be had.
Make it a great weekend, Deac families!
— by Betsy Chapman '92, MA '94