Lots of stuff for the blog today. First up, I am in dire need of 3 current students in NJ to come to our New Student Reception this Sunday afternoon in West Orange. If your Deac wants to help out, please have them email me at parents@nullwfu.edu* (* = ignore the weird null character). First three to sign up will get the gold stars of the day.
Next for today: you know I don't normally talk money in the Daily Deac, other than at the end of the calendar year and the end of the fiscal year. Well, we are 397 gifts away from reaching our Parents' Campaign goal, so I could really use your help. If you have not made a gift, please consider doing so. Every gift (at any amount!) counts. You can give securely online here.
Now to the big story. The Office of Family Engagement got some new contact cards, which will will give out at Orientation to our newest families. We'll also have a supply of them in Alumni Hall for any families who find their way to us during visits to campus.
I am generally not known for brevity, so this contact card is a fairly sizable change from the past iteration (which had a lot of words). But this abbreviated design bears a bit of explanation.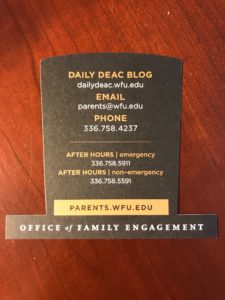 On our card (seen at right), it has info on our general website (parents.wfu.edu) and the Daily Deac, our email and phone. It also lists an 'after hours emergency' number and an 'after hours non-emergency' number. I want to take a minute to explain what those after hours numbers mean.
Wake Forest's normal administrator working hours are 8:30 am-5 pm. We do have some staff who work after hours, but the bulk of our normal work is done in the daytime. Because the staff of most offices you would interact with close at 5 pm, after hours calls should be reserved for some sort of true emergency:
The after hours emergency line should be used for things such as: a dangerous situation involving the life/health/safety of a student, or a dangerous condition in a building, or a serious crime (think of it like a situation at home where you would call 911).
The after hours non-emergency line should be used for something that needs immediate attention, but is not 911 worthy. Examples might be that a residence hall lost power and the emergency lights have come on, or that the key card reader is not functioning in a particular building, leaving students locked out.
(And as a general rule, your students should be the ones reporting these things, not you.)
The important thing to remember here is that the after hours line is meant to be used for urgent situations that need immediate attention from a life/health/safety/facilities perspective. So you would not use the after hours number because you had a question pop up in your mind at 7 or 8 pm and wanted to talk to someone, or because your student is unhappy about X or Y and you want to get connected to resources in offices that can assist them – those kinds of situations can wait until the next morning at 8:30 when administrative offices open.
If you needed help during normal business hours, you can always contact us in the Office of Family Engagement, plus we have an online directory of departments that you can consult. Finally, our University Police is a 24 hours, 7 days a week, 365 days a year operation.
— by Betsy Chapman '92, MA '94