Main Content
The big news today is that Wake's women's golf team is in the NCAA Championships. There are several options for watching or following – view them here. Please send good vibes to our ladies!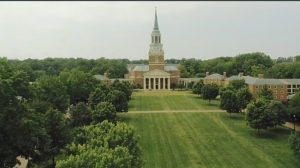 The Quad is now stripped of all the hints that there was ever a Commencement. See this screen cap from the Quad Cam. The only way you'd know it happened is by seeing the paths where the 10,000+ guests had worn down the grass. It is always amazing to me how quickly the Commencement stage, chairs, and supplies are removed.
Now that the students are gone (and the ones coming for Summer School won't be here for a few more days), the campus is trying to take care of major and minor construction projects that are best accomplished in a relatively empty campus.
The one that is closest to my world is the roadwork being done near big parking lot W1 between Poteat Field and the Health and Exercise Science section of Worrell Hall. The road right in front of HES is blocked with equipment. They appear to be digging up pipes or something, so traffic is being rerouted through W1. [As an aside, do you know that Worrell is pronounced WOR-ruhl, almost like squirrel or whirl; it is definitely not war-RELL?]
There are a number of other projects happening this summer besides this torn up road. It looks like they are renovating a Tribble Hall classroom and the facade of Salem Hall. In addition, planned renovation is taking place in Efird and Taylor residence halls, the North Campus Apartments, and work continues on the basketball player development center. Perhaps most exciting to your Deacs, they are renovating one of the buildings in Reynolda Village (near my beloved May Way Dumplings) and it is supposed to be a donut shop. I'm all in!
— by Betsy Chapman '92, MA '94
Recent Posts
August 7, 2020

August 6, 2020

August 5, 2020