Main Content
Today is Campus Day for Accepted Students – where we welcome students and families who had been accepted into the Class of 2023. Some of those students were Early Decision, and they are coming back to see their school and maybe make connections with their classmates; others are still trying to decide between Wake and another school, so this could be a final look at Wake for comparison's sake.
Originally I had planned to do a Five Senses post and give you all the sights and sounds of Campus Day, but today it has rained all day, and so there was no way I could park myself out at a table on the Quad and tell you what I saw. Everyone, please send good thoughts for a sunnier Campus Day next Friday.
Still, those admitted students and families that we met in Zick's this morning – or over the course of the day – were so nice. While I would love to see all these wonderful and bright young students at Wake, what I want most is for them to be at the place that is best for them. If it is at Wake, more's the better.
I'm trying to get back up to Wait Chapel to catch the last of the Campus Day activities, but wanted to mention one thing from the Office of Sustainability that might interest our students who will be attending summer school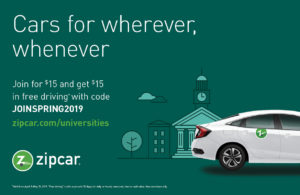 April is Earth month, and Zipcar is offering new members a $15 driving credit to help build more environmentally friendly and sustainable transportation.  The promotion can be redeemed any time before May 31, 2019; and the driving credit will be available up to 30 days after the promotion is redeemed.
So our students attending the first session of summer school can get in on this promotion before the deadline. If they use it within a month of activating the promotion, it's a free year of driving.
Couple other notes: the movie in the Benson Center tonight is Crazy Rich Asians, and Sunday there will be a garden party at Bailey Park at Wake Downtown in honor of the birthday of Wake Forest's own Dr. Maya Angelou:
This community event celebrates renowned poet and writer Maya Angelou's 91st birthday with food trucks, poetry readings, music, lawn games, and more. In case of inclement weather, the event will move to Turbine Hall in Bailey Power Plant.
Check out full details on the Events Calendar. And because it's Friday – call your Deacs and tell them you love them!
— by Betsy Chapman '92, MA '94
Recent Posts
March 28, 2020

March 27, 2020

March 26, 2020