I am on PTO this week, so the post below was pre-scheduled. However, need to make a brief mention of the tornado warning last night. First up, everything is fine – no tornado hit campus (and at my house – 3 miles from campus – it was a total nonevent). So, what took place?
Students received an email at 8:34 am yesterday alerting them to the potential for unstable weather, and to stay alert throughout the day. Students later received a tornado watch email, text message, and phone call (at their cell) at 2:26 pm, followed by another at 10:44 pm (these were also on Wake Alert Twitter and web site).
Students received an email, text message, and phone call (at their cell) about a tornado warning at 12:54 am today. That message had instructions to seek shelter, go to the lowest level of the building, and avoid windows. The all-clear was announced at 2:45 am (meaning resume normal activities) via email, text message, and phone call (at their cell).
A couple families have asked me how does Wake guarantee that students follow those alerts? It's actually up to the individual student to decide whether/how to act on an alert – in the same way it's up to adults in their own houses to decide if they need to move to the basement/low-level space (or not) if they see a tornado warning on TV. We encourage students to heed all warnings, but this might be a good time for parents and families to have a conversation with your Deacs about what you think/hope/expect they will do if a warning is issued.
Finally, as a former exchange student in France, and one who honeymooned in Paris right next to Notre Dame de Paris, I am heartbroken to see Notre Dame in flames. French Deac families, our hearts are with you.
———————
I am out of the office all week with Class of '27's spring break, so this week will be pre-posted blogs (unless some big news happens).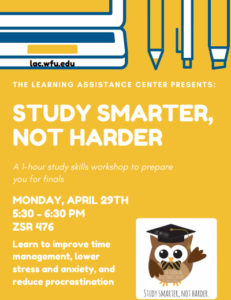 First up, the Learning Assistance Center is hosting its last Study Smarter, Not Harder seminar on April 29th. See picture for details.
There are only a few weeks until the end of the semester. So this week we'll offer your Deacs some ideas of things to do between now and the end of the semester. Today's topic: thank the people you see every day.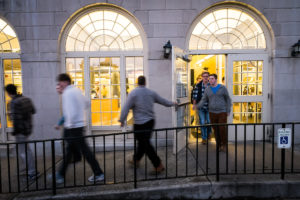 There are folks your students see every day who make an impact on them. It's the person who serves your food at your favorite station in the Pit (or swipes your card), or the custodial staff who smiles at you as you are going to class, or the barista at Starbucks who knows your order by heart. You get the idea.
Encourage your Deacs to take time to thank them before the semester is over. Those jobs are not easy – it's being on your feet a lot, moving around all day – and the pay is surely not CEO-grade. So for your Deacs to tell the folks they interact with a lot that they appreciate them might mean a lot.
Whether it is a smile and a "thank you," or a note, or a hug, expressing gratitude for helping make their WFU experience a little better might make one of these staffer's days.
— by Betsy Chapman '92, MA '94