Main Content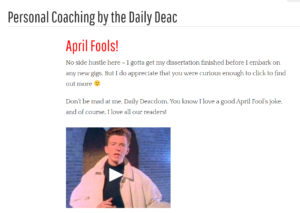 Many thanks to those in the Daily Deacdom who took yesterday's April Fool's joke in the spirit that it was intended. In case you missed it, yesterday's post was an April Fool's prank, saying that I was going to start a life-coaching service for students. As I often do with my annual April Fools prank, I buried the joke at the end of a long-ish post, and unless you clicked the link at the end, you would not have realized it was a joke. I admittedly get a kick out of doing my annual April Fool's jokes (and you are on notice, I do this every year!), but sometimes my sense of humor is funnier to me than it might be to the rest of the world.
This next item is not a joke and is 100% legit and serious. I was made aware of a scam that was directed towards students – it involved a student getting an email saying that an 'administrator' at Wake recommended them for a job to serve as a kind of admin assistant/personal assistant. The "boss" only works via text or gmail, not by phone or in person; they will not answer their phone if you call. The "boss" asks the student to buy things like gift cards online with the promise of reimbursement, and the "boss" would ask for pictures of the gift card codes, etc. but disappeared before the student was reimbursed. Just sharing this as a reminder that students should be cautious if they receive an unexpected email soliciting them for a job, and should be wary of requests to spend personal money for a promised reimbursement later. And if they were impacted by this scam, please report it to University Police.
Registration for fall classes is taking place, and a couple of important reminders for families of currently-enrolled students (Classes of 2019, '20, '21, and '22):
Urge your Deacs to check their holds and registration status in WIN before course registration begins. They do not want to find out they have a hold for some fee at the time they start to register (which is after 5 pm) because they will not be able to clear any holds until offices open the next day – so they could not register on time.
In the event your Deac needs assistance whenever they register this week, lots of info here: https://registrar.wfu.edu/registration-and-information/ and highly recommend they use the G-chat function (see After Hours Assistance During Rounds)
For our P'23 incoming parents (whose students will start at Wake in August), there is no action required for registration. Your incoming Deacs will do course selection over the summer (and there will be a LOT of info to come starting May 1, so stay tuned).
Last, but not least, it SNOWED today. That is also not an April Fools joke. Was not cold enough to stick, but we saw big, fluffy flakes for the better part of the morning. Video here.
That's all I've got for you today. Make it a great week, Deac families!
— by Betsy Chapman '92, MA '94
Recent Posts
March 28, 2020

March 27, 2020

March 26, 2020