Main Content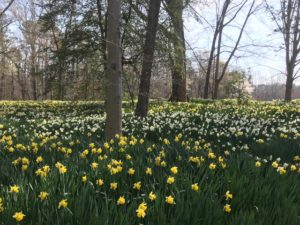 Happy Monday, Deac families! It was a beautiful weekend on campus – sunny, warm with a gentle breeze. On Friday night my social media feeds were filled with pictures of campus – specifically of flowers, mostly in the path leading between campus and Reynolda Gardens. So on Saturday morning, Class of '27 and I made a trek along that path, all the way up to the entrance to Reynolda House just across Reynolda Road from Graylyn.
It. Was. Stunning.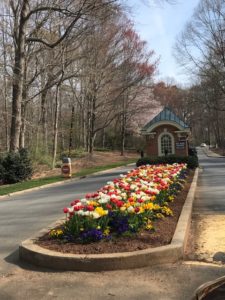 The first thing you saw driving onto campus was the tulip bed by the gatehouse. And once you got to the walking path to Reynolda Village, there were literally thousands of daffodils. In some places, it was all you could see. I can't begin to do justice to it, so I am including pics below. Bonus pics of some tulip beds in Reynolda Village. Please tell your Deacs to take this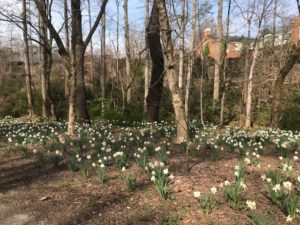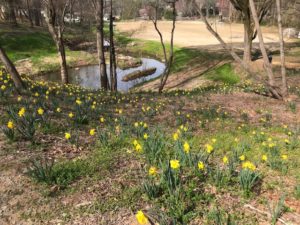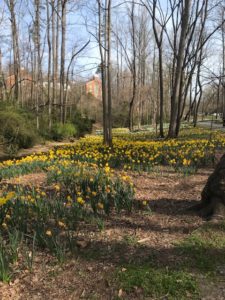 walk and see the daffodils. It will be 30-45 minutes of pure joy.
For our longtime Daily Deac readers, you know that I am in the process of getting my PhD in higher education. I completed all my coursework at the end of December (yay!) and this semester have been writing chapters 1-3 of my dissertation (which was the much-less-fun part of my weekend).
Completion of my coursework has also put me in a position where I now have the requisite qualifications to be able to embark on a side project that I am really excited about: providing professional coaching services for students. This would be a fee-based service that would provide academic advising, major selection counsel, and/or general life coaching. It is not meant to replace the [already very high quality] services that students can get for free. Instead, this would be for students who want much more extensive personal coaching and mentoring than our traditional channels can offer.
The platform that I will be using for this service is Patreon – which helps connect individual artists, musicians, and yes – life coaches! – with patrons who can help support them in their work.
So if you are interested in securing my personal coaching services for your Deac, I invite you to check out my site for more information and pricing. I am really excited about the possibility of connecting with the Daily Deacdom in this way!
— by Betsy Chapman '92, MA '94
Recent Posts
September 25, 2020

September 24, 2020

September 23, 2020