Main Content
Happy LFOC (Last Friday of Classes) to all. No doubt this is going to be a busybusybusy weekend for our Deacs as they finish classes and prep for finals, which start May 3rd.
But first, let me say a hale and hearty THANK YOU to all the parents and families who helped us yesterday for Matchstravaganza. We surpassed the goal of 1,000 gifts, and so Wake did in fact get the $50,000 match gift. AND somewhere in the evening, the anonymous donor threw in a second challenge as well – which we met, because of you! – and we got an extra $50,000!
You always, always come through for us, Deac families! Believe me, we are so grateful for all the ways you help make Wake Forest a better place. Thank you!
Our April weather continues to be crazy. It was sunny this morning, then we got storms midday and it was noticeably cooler (only 69). Storms could continue tonight, then we are zig zagging between mid 70s and low 80s for the next few days. The rain at midday was heavy, so I am cheating and not doing real pictures today – here is a screen grab from the Quad Cam.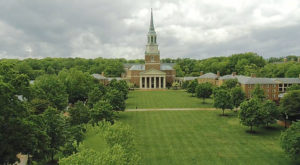 Procedural matter for P'19s – parents of seniors: urge your Deac to check their email to make sure they did not receive an email from Student Financial Services about an outstanding balance on their account. Only graduating seniors with an outstanding balance would have gotten this email. Tell them to check Inbox and also spam/junk/trash, just so they have checked everywhere. Unpaid balances must be taken care of by May 10th – but obviously the sooner the better.
Because it is Friday, call your Deacs and have a nice chat. Tell them you love them and that you have faith in them, etc.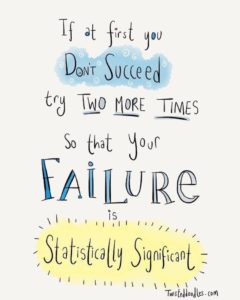 In closing, I offer you a new entry from our end-of-semester Laughter Is the Best Medicine files. This one goes out to all our science and social science Deacs. Make it a great weekend!
PS – Do we have many Game of Thrones fans out in the Daily Deacdom? The Battle of Winterfell will supposedly be this Sunday – are you ready? Which house are you? Mr. Daily Deac (who has read all the books and is very knowledgeable) said I am decidedly from House Targaryen. He's more of a Stark. 🙂
– by Betsy Chapman '92, MA '94
Recent Posts
March 28, 2020

March 27, 2020

March 26, 2020