Main Content
I am [kindasorta] back following a dreadful bout of influenza. It hit me last Wednesday, then Mr. Daily Deac a couple of days later, and finally Class of '27 (I am working from home while he battles it). This is a terrible, draining flu and between the fever and the coughing, it really knocks you for a loop. I am on day 7 and I still feel pretty wretched. My hope is that your Deacs do not get it, though it appears it is already making its way around campus. The Student Health Service sent an email around to students today; read it here.
Trying to catch up on things I have missed the past few days. There is a new issue of Letters So Dear, advice for first-year students. Morgan Briggs ('19), Student Trustee, offers five bits of advice; here are two of them:
"Think of three things you are already very interested in or three things that you would love to try. Then, find three organizations that match these interests. You never know what interests will develop during your time at Wake Forest, and there is nothing wrong with trying new things….
"Comparison is the thief of joy." So much joy in life is stolen from comparing yourself to your neighbor. Instead of wasting your time getting bogged down, celebrate the successes of your peers and yours will come in due time."
You can read the full letter here, and the archive of all Letters So Dear is here.
Valentine's Day is coming up. As a reminder, if you are sending packages to your Deac, those get delivered to our Post Office and your students have to pick it up there (they get notified via email that they have a delivery, and they have to present the delivery slip that is put in their PO Box). Business hours are extended Weds and Thurs this week from 8 am-6 pm.
There is an opportunity for students to apply to live in the Global Village:
"The Center for Global Programs and Studies encourages rising sophomores, juniors, and seniors to apply to the Global Village Living Learning Community by February 17. The Global Village LLC is an excellent opportunity for globally-minded students of all backgrounds and experience levels to live together while taking a course and participating in engaging student-led activities around a global theme. For the first time this coming year, we plan to have two communities with distinct global themes: Global Health/Environment and Global Citizenship. We are also excited to offer a gender neutral housing option for the first time. Please direct any questions to Kara Rothberg, Program Coordinator for Global Campus Programs."
Finally, lots of great Wellbeing offerings this month. See pics below.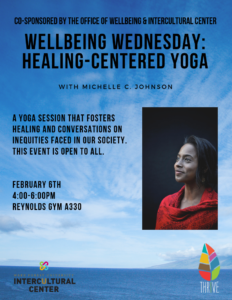 — by Betsy Chapman '92, MA '94
Recent Posts
September 25, 2020

September 24, 2020

September 23, 2020