We had an interesting night last night: it started sleeting around the time I went home from work, and then at times throughout the evening we had big wet snowflakes falling. It was never cold enough for it to stick on the ground, though there was some snow on the eaves of roofs this morning. Rain – and more rain – continues to be in our forecast.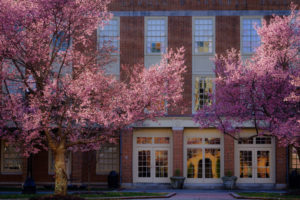 As I have said before, spring in NC can be tricky. One day you get sleet and freezing rain, and the next day it could be 30 degrees warmer. Some of our campus trees had already started to flower following the stretch of warmer weather we had a week or so ago; this photo was taken on 2/13, I believe. In certain places on campus, we have daffodils poking up out of the ground with their happy yellow flowers. And then we get sleet and it throws everything off.
It can be hard to find motivation when the weather is consistently crummy. So here are a couple of thoughts – one tongue in cheek, one more serious – about procrastination. Maybe that comes when you go down the Netflix or social media rabbit hole for hours, or something else – but you need to find a way to recover and end the day on a positive note feeling like you have accomplished something good.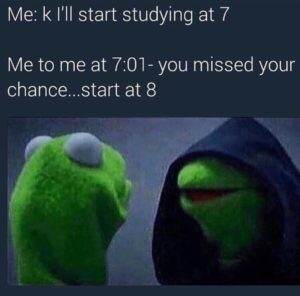 — by Betsy Chapman '92, MA '94