Main Content
Happy Friday, Deac families! I woke up this morning to a Winston-Salem Journal news story about the snow that is expected to hit us this weekend. It looks like we are going to get a heaping helping of snow. Like 8-12″ of snow. Holy macaroni!
Your Deacs would be alerted (in a number of ways) if there were changes to classes, or changes to operating schedules of the dining halls and essential campus services. They have also received special instructions of things to do/not to do in their residence halls in this email sent out by Residence Life and Housing. Urge your Deacs to pay attention to those emails and follow instructions.
Today is also LDOC – the Last Day of Classes. LDOC is typically a time when our students are looking a little pinched, dressing much more casually than normal (with men might be sporting some stubble and ladies maybe opting out of makeup) because it's Go Time. Finals are almost here.
Speaking of finals, there was an email sent out to students at noon regarding a possible alternative plan for final exams and school policies surrounding inclement weather. It is up on the Family News Page, linked here.  We will continue to post updates as the weather plays out.
Couple of you have asked about the security situation from Sunday. I do not have an update as of when I am writing this (9:00 am). I always feel like no news is good news, so I would be encouraged. If something new comes out, it would be shared with students and parents by my colleagues who are in Winston.
Have a great weekend, Deac families. Call your kids, urge them to be sensible and safe in the snow, particularly to be cautious about driving. And remind them they are going to rock their finals. They could use a boost. Here are a couple of funnies and motivational pics if you think they need them.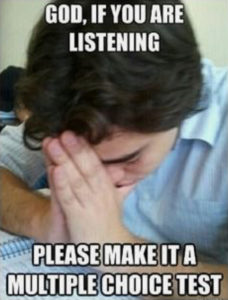 — by Betsy Chapman '92, MA '94
Recent Posts
August 12, 2020

August 11, 2020

August 10, 2020