Happy Tuesday, Deac families! Today I have some information about up and coming events or processes.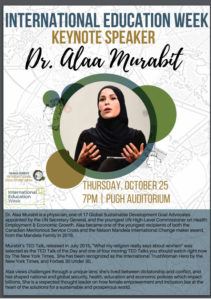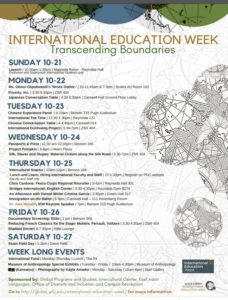 Next week is International Education week, and there are a ton of activities your students in which your students could participate. They can see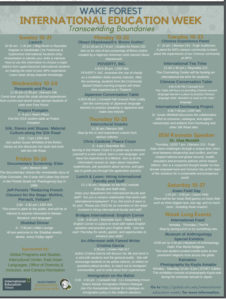 the complete lineup here: https://global.wfu.edu/iss/international-education-week/ or click on the graphics to enlarge them.
Advising for spring classes also will be starting soon. For those who have declared majors already (juniors and seniors), they are probably used to registration by now and will be working with their faculty adviser in their major. For those who have not yet declared and are still working with a lower division adviser, I am sharing a some info from the Office of Academic Advising that was sent to advisers:
Registration rounds start the week of November 5.  In the first round (Nov. 5 – Nov. 11, 11:59 pm) students can register for up to 8 hours.  In the second round (Nov. 12 on), students can complete registration up to 17 hours. Each student can register at any time after his/her assigned time and up to the closing time for each round.  Registration times are set based on completed hours, so most second-year students will begin registration on Wednesday of each week and most first-year students on Thursday, although some will have earlier start times if they are in a higher classification by credit hours.
Much helpful information, including resources such as the Course Completion Checklist (which lists courses that fulfill basic and divisional requirements) can be found at https://registrar.wfu.edu/registration-and-information/
Students should pay close attention to the location of classes.  Times for classes at Wake Downtown are offset by 15 minutes relative to the Reynolda Campus standard course schedule. Classes that would normally begin at 9 or 9:30 a.m. will begin (and end) 15 minutes earlier on the downtown campus, while subsequent downtown classes will begin and end 15 minutes later than the normal time equivalent. Although this schedule should prevent students from scheduling classes on the different campuses that are too close in time, students should always be reminded to leave at least 30 minutes between classes on different campuses.
On Nov. 8 & 15 from 5:00-9 pm, staff from the Office of Academic Advising will provide registration assistance to first-year students in Babcock Residence Hall Formal Parlor (room C109) or Angelou Residence Hall Formal Parlor (room 117), respectively by week.  
For all students, the Office of the University Registrar staff members will be available in the evenings during registration rounds to answer students' questions using Google Chat (see https://registrar.wfu.edu/registration/registration-after-hours/).
Also note that students must meet face to face with their lower division adviser to get their PIN number to register.
A final piece of advice I would offer is that your students need to check for any financial holds that would prevent them from registering. I normally tell my advisees to check a few days before registration begins, and then again the morning of. The reason is that registration happens in the evening after business offices are closed (I believe Student Government asked for this change, so students would have a lower chance of being assigned a registration time while they were in class). But if you have an unpaid bill of any kind and you don't discover this until you try to register at night, you can't fix that until the next morning. I have seen that happen to students and it is not fun to be blocked from your classes because you had not checked for holds. Students can go into WIN > Virtual Campus and look for Check Your Holds and Registration Status – and what they want to see are no holds.
That's news you can use 🙂
— by Betsy Chapman '92, MA '94