Main Content
Happy Monday, Deac families. We have a number of news and other announcements today.
All eyes are turned to the coast with Hurricane Florence churning in the Atlantic. Officials continue to monitor the situation closely. Students were sent the following message (read it here) and parents and families were also sent a message. I am including the full message below because it is so important.
Dear Wake Forest Parents and Families,
With Hurricane Florence projected to bring heavy rains and sustained winds to the Winston-Salem/Forsyth County area later this week, we want to update you on steps we are taking to keep the campus community safe. 
The university is working closely with the National Weather Service in Raleigh, as well as state and local officials, to monitor potential impacts to campus. While we are still several days from understanding Florence's impact, Florence is expected to make landfall late Thursday, Sept. 13 or early Friday, Sept. 14.
The National Weather Service is currently projecting at least 4-6 inches of rain, possibly more. Flooding, tropical storm force winds (greater than 39 mph) and power outages in the Winston-Salem area are possible.
Please encourage your students to stay alert to the weather forecast for the Triad and surrounding areas, and to read emails sent from our Communications and External Relations office about the hurricane. Local news organizations, including WXII, WGHP, WFMY, Spectrum News Triad, Winston-Salem Journal and WFDD are also good resources for the latest information. The university will send updates about the storm as details become available.
Please encourage your students to familiarize themselves with (and bookmark) Wake Alert (http://wakealert.wfu.edu/) now, while conditions are normal. In an emergency, alerts and updates would be posted on the Wake Alert website (wakealert.wfu.edu) and distributed to your students via email and other methods. Please remind your students to:
Be on the lookout for

text alerts

(Undergraduate students are required to provide their cell phone number.)

Follow

@WakeAlert

on Twitter and on Facebook (

facebook.com/WakeAlert

).

Add the Wake Forest Weather/Emergency line (336-758-5935) to phone contacts.
As described in our Parent and Family Communications Guidelines, in an emergency, our primary concern will always be getting our students the information they need to stay safe.  We know that parents and families want to know what is going on as well, so all future Hurricane Florence-related emails or other news will be posted to the Wake Alert website: wakealert.wfu.edu. Please bookmark that page and use it to look for future information; newest entries will appear at the top of the page.  
Know that we are working on behalf of our students, faculty, and staff to prepare for Hurricane Florence. Stay tuned to Wake Alert for additional information.
In non-hurricane news, the US News and World Report college rankings have come out, and Wake Forest is once again ranked #27 among 312 national universities. Here are a few fun facts about where we stand in this year's rankings:
Wake Forest has been ranked in the top 30 national universities for 23 years.
Wake Forest was also included in the following U.S. News rankings this year:
13th among national universities for "Strong Commitment to Undergraduate Teaching"
24th on "Best Value Schools" list
40th among national universities on the "High School Counselors' Top Picks" list
35th  among undergraduate business programs
45th on the "Most Innovative Schools" list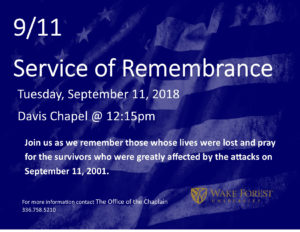 There will be a 9/11 service of remembrance tomorrow for interested members of the campus community. See the flyer from the Chaplain's office.
We have a new Weekly Message for First Year Parents and Families on how to navigate the classroom and professors.
Finally, Gail Bretan, Director of Jewish Life, wanted to say L'Shana Tova to all Jewish families celebrating Rosh Hashana. You can also read This Week in WFU Jewish Life for more information. May you have a sweet year!
Recent Posts
August 5, 2020

August 4, 2020

August 3, 2020