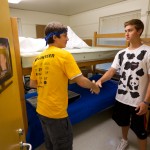 One of my colleagues sent me an email telling me that housing and roommate information will be available online sometime this week.  It sounds like first year students will receive an email (on their WFU account), saying they should log in (w/ their username and password) to the Housing site where they will receive their residence hall assignment and name and contact information of their roommate.
This is always an exciting – and scary – part of the process for new students.  On the one hand, you're excited to finally be able to put a face and a name to that person with whom you'll share a room; on the other hand, you worry if you don't get along.  Having been around the block a number of times on this one, let me share just a few tips:
Contact your new roommate promptly and establish good communications.  Be friendly, try to get to know your roommate via phone/text/IM/Facetime/Skype, whatever is most comfortable to you.
If you must look at them on Facebook, Instagram (or any other social media platform) or Google, don't put too much stock in what you see.  For example, some students look online at their new roommate and get worried about what they might be like based on their social media profile, what people post on their walls, what they look like, which music or movies they seem into.  And while those things do tell you something about your new roommate, they cannot adequately capture the full range of their personality.  So if you see something online you don't like, don't panic.
Start talking now about who brings what – that way you don't have 2 TVs, 2 Xboxes, etc.  This will eliminate frustration on move in day – for you and your families.
And speaking of families, try to remain neutral on any potential concerns or conflicts and let the roommates work it out for themselves. Learning to navigate interpersonal relationships and managing conflict are some of the great 'outside the classroom' learning moments of college.  So try to declare yourselves Switzerland in the case of any roommate issues and let them find their own answers.
Embrace the excitement of new things and help encourage your student to be open to new people and new experiences.  Some roommates form lifelong bonds as freshmen, others just peacefully coexist.  But this is the beginning of a great adventure – enjoy it!